Are Scholars and Museums Ignoring Mormon Artists?
Menachem Wecker is a Washington, D.C.-based painter and writer, who blogs on religion and the arts at
iconia.canonist.com
.
Try searching for "Mormon" on the website of New York's Museum of Modern Art, and MOMA will ask if you meant "mormons." But don't get your hopes up—refining your search returns just one page, a profile of Dorothea Lange, who photographed Mormon subjects for Life in the mid-1950s.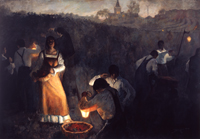 Searching the sites of other major U.S. museums shows MOMA is not an isolated offender. The National Gallery of Art has hosted musicians who previously performed with the Mormon Tabernacle Choir and the Orchestra at Temple Square. A quilts exhibit at the Smithsonian American Art Museum mentioned the Mormon Trail, and the collection includes Thomas Moran's painting Mist in Kanab Canyon, Utah, while New York's Metropolitan Museum site yields only one hit: Charles William Carter's print Mormon Emigrant Train, Echo Canyon.
The conspicuous absence of Mormon art in U.S. museums begs the question: Are art institutions maliciously turning a blind eye on LDS artists, or have LDS artists and cultural institutions done a poor job of marketing themselves to the wider public? And whichever is the case, are there good reasons why non-Mormons should take Mormon art seriously?
"I suspect most people don't even know there is such a thing as Mormon art," says Dr. Diane Apostolos-Cappadona, adjunct professor of religious art and cultural history at Georgetown University's Prince Alwaleed bin Talal Center for Muslim-Christian Understanding.
Apostolos-Cappadona, whose publications include Encyclopedia of Women in Religious Art and Dictionary of Christian Art, says she has rarely encountered Mormon art or artists as specific topics in her research. "I am not sure there is a strong, or even growing interest in the topic of Mormon art."
A "conundrum" might account for this lack of exposure, according to Apostolos-Cappadona. Mormon-themed art is often off limits to non-Mormons, who cannot enter consecrated temples. And for whatever reasons, experts tend not to view the art by Mormon artists that is accessible to non-Mormons as part of the larger field of religious art, which is getting far more exposure.
A search through the online library catalog at a major East Coast university returned just one relevant publication, Mormon Graphic Image, 1834-1914: Cartoons, Caricatures, and Illustrations by Gary L. Bunker and Davis Bitton, published by the University of Utah Press in the early 1980s. Rather than championing Mormon art, the book turns out to be a catalog of anti-Mormon cartoons, some of which attack the prophet directly. One example, a 1904 drawing from Life by F.T. Richards, shows Joseph Smith wearing a top hat and a long white beard pushing a wheelbarrow full of babies, flanked by a long parade of wives. "Joseph Smith Comes to Washington," mocks the headline.
In their introduction, the authors explain that they conceived the study, which was funded by BYU, after reading John and Selma Appel's The Distorted Image, published by the Jewish organization, the Anti-Defamation League of B'nai B'rith. Bunker and Bitton decided studies of images that stereotyped Jews, blacks, Native Americans, and Catholics have proliferated, but such a study of anti-Mormon images was "long overdue."
Some suggest that anti-Mormon sentiments might still present problems in academia. According to Christi Foist, who holds a graduate degree in religious studies with an emphasis on religion and art from Arizona State University, it can be "a little tricky" to find scholarship on Mormonism. Foist found that her program focused largely on "traditional, institutional religions" like Buddhism, Islam, Christianity, and Hinduism. "Things that fell outside those boundaries—especially things sometimes defined more as 'cults' than religions—typically didn't get as much scholarship," she says.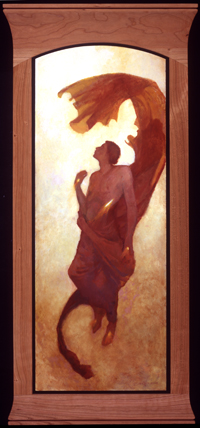 Pablo Solomon, an artist based in Austin, Texas, who draws and sculpts dancers, says galleries and museums are generally anti-religious, and as such, Mormon artists, who tend to be devout, might get targeted. "If you pay close attention, religious art is always portrayed as basically primitive propaganda used to scare and to control the ignorant masses in the days before the average person was educated," says Solomon. "The work of great masters is seldom analyzed as to the message of faith, but rather as to the artwork's relevance to the progression of art."
Apostolos-Cappadona disagrees with the charge that academia discriminates against Mormons. "As far as I know, there is very little interest in Mormonism, let alone anti-Mormon sentiment, at least in the academic circles I frequent," she says, adding that there was some interest, inquisitive but not necessarily negative, surrounding Mitt Romney's presidential bid. "Who knows—if he revives himself for 2012, then maybe there will be more interest, positive and negative."
Dr. James E. Bryan, a specialist in the history of the decorative arts and design, who has featured slides of the furniture of early Mormon pioneers in Utah in his lectures, also cautioned against overstating the absence of Mormon studies in academia.
"I would caution that the verb 'ignore' is perhaps a bit strong, implying that art historians are deliberately avoiding Mormon art, when I would expect that for the most part they are simply unaware of it," says Bryan, assistant professor of art history at University of Wisconsin-Stout.
Bryan says he and his colleagues often use history, including religious history, to contextualize art in their teaching, but never try to proselytize or criticize any belief. On "rare occasions," students have told Bryan his teaching contradicts their beliefs, but the reactions have been misunderstandings, he says. "What is being taught is not what the student should or should not believe," Bryan explains, "but what the people we are studying believed, and whether we agree with them or not, that's what they thought and here's how it influenced their art."
But art historians are not often bringing Mormon religious history into their teaching due to the influence of modernism on twentieth-century art historians, Bryan says, since modernism increasingly defined artistic "progress" in terms of an increasingly abstract style, which precluded realist traditions like Mormon art.
"This 'greatness' of given artists was most easily determined by how much other artists were influenced by them," Bryan says, or, more recently with the rise of modern art, by the degree of popularity an artist achieved. "As far as I know, no Mormons have been highly prominent by either of these standards … If Mormons have done interesting things I would not be surprised for some art historians to start looking into it."
Another difficulty facing scholars who seek to bring religion into art and art history is what Lawrence Klimecki, a Sacramento-based fine artist, illustrator, and designer, who is also a deacon in the Catholic Church, calls "the round peg in the square hole." Museums and galleries rarely give viewers any information which facilitates connecting to the art on a religious level, according to Klimecki, and they tend to see art as just a commodity. "For the religious artist, however, the work is something more—it is an expression of their divinely inspired gifts," Klimecki says.
David Dark, author of Everyday Apocalypse and The Gospel According to America, agrees, adding that the essential element of religious art-making is "faithful receptivity."
"I think the best artists are almost un-self-consciously transparent about their faith. It comes through naturally and candidly in a way they really can't help," says the Nashville-based Dark, who is currently pursuing his doctorate in religious studies at Vanderbilt University. "It isn't—and couldn't be—incorporated into the work after the fact."
When artists try to append religious significance to their works after the fact, it is easy to spot, says Dark. "When the audience discerns that a notion has been inserted unnaturally to make the work pass muster for the doctrine police or something (a Bible verse or a symbol placed obtrusively on an image), I'd say the artist's career is rightfully and even helpfully jeopardized," he says.
The good news for Mormon artists is that American art might be getting a higher profile in American museums, as Suzanne Muchnic reported on May 30, 2009, in the Los Angeles Times. "Long the stepchild of a Eurocentric art world, American art is finding new favor at home as a growing number of institutions showcase work from Colonial times to World War II," Muchnic begins, explaining that experts are pointing to three factors which might be responsible for the revival: "a national coming of age, a thirst for new artistic territory and a critical mass of American material that has made its way from private homes to public museums."
Mormon art could certainly play an important role in the new trend, as Apostolos-Cappadona explains. "Given its evangelical nature and its nineteenth-century roots and expansion into the American West, Mormonism provides a window into the 'American' interest in utopian societies and the drive to go west," she says. Otherwise, there is always the possibility of a Romney 2012 campaign. ❧