"The Class That Wouldn't Die"
In December 2009, on the popular publishing blog Editorial Anonymous, a reader noted the surprising number of Mormon authors in science fiction and fantasy and the seeming existence of a "'Mormon Mafia' of BYU alumni." The reader then posed the question, "Will my odds of getting published improve if I move to Provo, convert, and squeeze out another kid?" While the ensuing discussion was more than a little tongue in cheek, no fewer than fifteen Mormons commented on the post.
Though the existence of a "Mormon Mafia" within the publishing world is almost certainly a myth, it is nonetheless surprising how many authors within science fiction and fantasy are LDS. From Stephenie Meyer to Shannon Hale, from Orson Scott Card and Tracy Hickman to Brandon Sanderson and Dan Wells, a rich and vibrant community of LDS writers has been flourishing for several decades. "It may be the culture," says an article for redOrbit. "It may be religion or the landscape. Maybe it's something in the water. Whatever the reason, Utah has some of the nation's most prolific producers and ravenous readers of science fiction and fantasy." As Terryl L. Givens notes in his book People of Paradox, "[There is a] demonstrable affinity between the genre and the faith…it is proving to be such a fruitful alliance." While speculation abounds as to why science fiction and fantasy resonate so well with the Latter-day Saint audience, the roots of the LDS writing community can be traced to a series of events at Brigham Young University in the late '70s and early '80s, and a group of extraordinary people who collectively became known as "the class that wouldn't die."
Before 1979, there existed a general interest in science fiction at BYU but very few resources for serious writers. Perhaps the most ardent voice for science fiction and fantasy literature was BYU librarian Betty Pope, who in 1964 convinced the administration to establish a special collection within the Harold B. Lee Library for science fiction and fantasy titles. Instead of being spread across the entire fifth floor by author, the science fiction and fantasy collection was given a special catalog designation and gathered together in one place, which remains the case today. With more than 8,000 titles, the collection was at the time of its inception the third largest repository of science fiction in the country. Other student-based efforts, largely inspired by an interest in Star Trek and Star Wars, led to the formation of the Association of Science Fiction and Fantasy. However, the Association was more of a fan club for science fiction and fantasy media, not an organization for fostering writing. Though interest in the genres was definitely present, a science fiction and fantasy writing community did not yet exist.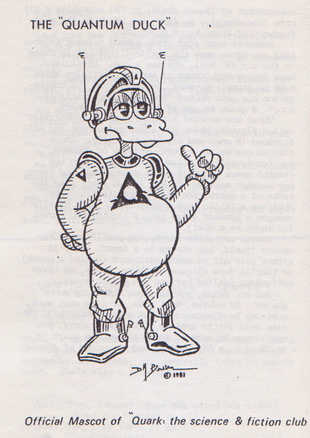 That began to change in the fall of 1979, when Carolyn Nicita, then a student, attended a meeting of the Association and recognized the need for more resources for writers. "That club meeting was okay," she wrote at the time in her journal, "but not what I had hoped for. I was hoping that there would be a couple of writers there, but there were only squirrels—nice ones, but squirrels all the same." At the time, she was taking a communications class on persuasion, and she decided to start a club for one of the assignments. "I didn't care whether they were reputable or not," she says, "but I cared whether they were serious." A bumper sticker from a local store supplied the name: "Beware the quantum duck that goes Quark Quark!" The first club meeting consisted of Carolyn Nicita, her fiancé, a guy who came only to see if Carolyn had stolen his Darth Vader costume, and Dave Doering.
"When you do an RPG (role playing game) party," says Carolyn, "you want people with different abilities. Dave was like the herald/puller." A young Mormon convert from New York City, Dave was a longtime fan of science fiction since even before he came to BYU. "Since the earliest days of science fiction," Dave says, "I thought that we had an infinite potential, that there was so much we could do in our lives… When I discovered [Mormonism], I thought, 'Here's a gospel—a description of life—that allows for infinite possibilities.'" After Carolyn married in 1980 and took a job working graveyard, Dave took over leadership of Quark.
That semester—winter of 1980—Orson Scott Card came to the Lee Library at BYU and gave a lecture entitled "How a Mormon Deals with the Problem of Evil in Fiction." Dave was electrified. "I actually saw somebody who understood some of the questions I had, and I said, I've got to meet this man. I've got to spend time with him, because he's speaking my language." Dave saw that Card was scheduled to give a lecture to Eugene England's honors class later that night. "So I showed up, knocked on the door, and Eugene England opened up. He looked at me and realized, 'I don't know this man from Adam,' but I just smiled and said 'Hi! Sorry I'm late!' and walked right past him." The discussion at Professor England's house proved just as creatively stimulating as the lecture at the library, but afterward, Dave felt that some of Card's comments about BYU were a little deprecating. "I thought: I can prove him wrong," said Dave, "and that gave me the impetus to want to do stuff."
At this point, Quark was far too small to facilitate Dave and Carolyn's ambitions. Fortunately, events would soon transpire to build the critical mass that they needed. In the fall of 1980, BYU's English department offered a 218R class on writing science fiction and fantasy, with Orson Scott Card initially slated to teach it. Very quickly, the class filled up with student writers. "These were not people who had gone to Quark," said Dave. "These were not people who had gone to the Association. These were much more serious writers." Due to scheduling conflicts, however, Card was unable to come to BYU that semester. "The day the class started," Shayne Bell described, "[the person] who we assumed was the teacher came in…advanced to the front of the class, picked up a piece of chalk, wrote on the chalkboard 'I am not Scott Card,' and proceeded to introduce himself as Marion Smith." At first, student reactions were mixed: "There was some disappointment, naturally," said Dave Doering, "not knowing who Doc Smith was—what kind of a teacher he was—but it was a science fiction writing class, so we decided, 'Well, we're here, let's just do this and see how it turns out.'" Shayne continues, "He proceeded to teach a marvelous class. He proceeded to teach throughout that semester such a fine course, not just on writing, but on life and how to live it well. He was a very fine professor, who changed my life for good forever, and I believe I'm correct in saying he did that for the other members of that class as well."
Professor Marion K. Smith proved to be exactly the teacher the students needed. "He was a master of literature writing and could speak authoritatively on any topic," says Shayne. For science fiction, he possessed "an undoubted enthusiasm for the field; a belief in its power and ability to do good and to change lives—not just individual lives but the entire world…he had read the literature, and he knew the truth about it, that it was as good as any other." Says Dave, "Doc was a laissez-faire kind of guy. He listened to the Spirit and felt comfortable having us run things. He sensed that we had good judgment running activities, and I think that over the years, we've earned that, time and again." While he took a very hands-off approach to teaching and advising, he was very adept at working with the bureaucracy of the BYU administration, which helped out later as his students began to start initiatives on their own. "He was not hands-on at all, except under certain circumstances," said Jonathan Langford, author of No Going Back from Zarahemla Books, who took several of Marion Smith's classes after the class that wouldn't die in 1980. "If something got really big, we'd bring him in, he would run interference for us, help us to get grants, etc." Throughout the years, Smith sacrificed a great deal for his students, including in 1984 driving a van packed with twelve people down to the World Science Fiction convention in Los Angeles. Still, though an excellent teacher, Marion Smith was not himself a writer or an author. "Doc was just the right balance of good information and good encouragement," Dave says, "but he left you hungry…to do more."
After the class ended, the students went home for Christmas and came back the next semester with a yearning for the experience to continue. "When it came time for that class to end," says Shayne, "none of us wanted it to. It had been that kind of fine experience. We regretted that it was ending." One day, while walking down the sidewalk, Shayne and Dave happened to run into each other. "I asked him what he'd been doing," Shayne says, "if he'd been writing. I had been, over the Christmas break, and so had he." Dave recalls, "We said, 'Why don't we get together and form a writing group?' We met in one of the Heritage Halls with the girls from the class and started Xenobia, and it was with Xenobia that we kept the class alive." Xenobia, roughly translated as "love of the strange," soon caught on as the name of the new writing group. "By the next week," says Shayne, "we had found most of the rest of the class, and they had all agreed to come. We continued meeting for thirteen years…all of us with similar dreams to write professionally, and our goal in the meetings being to help each other along the way."
Among the students, Shayne Bell was one of the key figures who pulled the people together and made things happen. "Shayne was very integral to all of this," says Carolyn. "He was like the white mage—the one who does the magic." A young Idaho farm boy who came to BYU to become a writer, Shayne was first introduced to science fiction by his mother, who bought him a premier copy of Magnus, Robot Fighter when he was four years old. "I grew up in a house where my parents both read a lot," says Shayne. "They read everything, among them the works of science fiction and fantasy." When he came to BYU, however, his initial goal was to write mainstream fiction. "I signed up for the class that Orson Scott Card was going to teach simply because he was a published writer, and none of the faculty at the time at BYU were." On the stairwell after the first day of class, Shayne asked Marion Smith if he could write mainstream fiction in the class even though the subject matter was science fiction. The resulting conversation changed his life. "I decided on the spot, though I didn't tell him then," says Shayne, "that I would take the course and write science fiction simply to study with this good man who had already taught such a remarkable class." Soon after Xenobia started, Shayne went out of his way to find and bring in several other student writers, such as Cara O'Sullivan, who had not been a part of the initial class that wouldn't die. "Everyone has a Shayne story," says Cara, who went on to help organize Leading Edge and the Life, The Universe, & Everything symposium. "Shayne was a really critical figure in those early days," says Jonathan Langford, another major organizing figure in the student initiatives that would follow. "Dave Doering was the 'sure we can do this' person, and Shayne was the one who made it happen and made it a class act."
With Shayne Bell and Dave Doering providing the impetus and drawing in new members, Xenobia quickly grew into a tight-knit writing community. "The fact that there was going to be a class taught by Orson Scott Card brought together some people who were serious and talented all at one place at one time," says Jonathan Langford, "and then they had the critical mass." Shayne compares it to Tolkien, Lewis, and the Inklings: "Our hope from the start [was] that we would be that type of support group for each other, that we would offer each other the best critiques and help each other prepare for publication."
"There were a lot of keen editorial minds," says Diann Read, who later published a fantasy trilogy with Tor, the largest science fiction and fantasy publishing company in New York. "They encouraged me to drop the fanzine stuff and get serious…. Xenobia was a major player in my success." One of the major factors that forged Xenobia into such a tight-knit literary community was the opposition that the students faced almost from the start. "Because of the opposition," Carolyn says, "we had someone to fight against. And for a campaign, you need an impossible quest—something that you can brag about." In the early 80s, science fiction was often viewed by mainstream popular culture as a fringe thing, especially in Utah. "In the old days," says Loreena Goertz, "if you were into science fiction and fantasy, you were just weird." The opposition was not limited to the students' peers but extended through much of the English department as well. When Shayne Bell drafted a prospectus for a science fiction and fantasy themed master's thesis, his proposal was rejected twice before it was accepted, delaying his graduation for over a year. At one point, the secretary allowed him to read some of the professor's comments, one of which read, "science fiction is dangerous for children and should therefore neither be written nor read." His third attempt passed by one vote, but every professor refused to be his thesis chair, until Sally Taylor stepped up to the position. Even then, he had to include professors from the math department just to form a complete panel. But the opposition was not just limited to BYU. In the wider field of science fiction and fantasy, as well as New York and the publishing world, Utah had a "stigma of ignorance—that we're religious, closed-minded people," according to Dave Doering. "In 1982, you're in a non-Internet era, non-cable television era, non-satellite era, so your contact with major publications, writers, editors, and so on was limited unless you went out of state—but very few people in 1980 had been out of state for one of those events."
In response to this opposition, both from the BYU literary community and the continual rejection from New York, the members of Xenobia decided to organize their own literary magazine: Leading Edge. "The official literary publication of the university [Inscape] refused to accept science fiction and fantasy," said Shayne, "so we decided to print our own journal."
"We felt that we needed something as a leg-up," says Dave. "The writers needed something to encourage them, and the magazine was a way to do that—to help them move forward in their careers." Dave Doering was also motivated by his experience with Orson Scott Card at Eugene England's house. "A magazine would show that we're a real school." The first issue was typed and collated by hand, with red and blue covers. A $20 contest was offered to attract submissions, and several members of Xenobia responded by sending in their stories. Though difficulties plagued the magazine from the very start, once it was off the ground, people started coming forward to help make it possible. "When the first issue came out, it wasn't selling like we'd hoped," says Shayne, "but we ran into some other great mentors and helpful souls along the way." One of these was Linda Brummet, manager at the BYU Bookstore, who bought 100 copies of the first issue for a dollar each, making the publication of the second issue possible. As the publication gained steam and started receiving submissions from around the country, other people began to volunteer with it. "Now that there was a magazine," says Dave Doering, "there were a lot of people who wanted to help out with the magazine."
Throughout its nearly thirty years of publication, Leading Edge has had a tremendous impact on both the personal and professional development of hundreds of students. Several LDS editors broke their teeth at Leading Edge, including Anne Sowards at Ace and Stacy Whitman at Tu, an imprint of Lee & Low Books.
"By volunteering at Leading Edge, I discovered that I really wanted to be an editor, not a writer," said Peter Ahlstrom, who went on to edit for Tokyopop and currently works as Brandon Sanderson's personal assistant. "Leading Edge showed me that I was good at it."
"If you want to prepare yourself to be a publisher," says Dave Wolverton, "Leading Edge is a great place to go…. It's a real life experience." For the writers as well, the experience at Leading Edge has consistently proven invaluable. "When you participate from the editor's perspective, you get to see why you might be getting rejected," says Carolyn. One of the things that has always set Leading Edge apart is the practice of giving every author detailed feedback on their stories. Where other publications typically send form rejections for unsolicited submissions, Leading Edge has at least two staff members read every story cover to cover and write up a comment sheet for each one. Naturally, this teaches the student staff a great deal about writing.
"It showed me what worked and what didn't," says Dan Wells, author of the I Am Not a Serial Killer books. "I had always wanted to be a writer, but it was that experience [filling out comment sheets] that got me into the mindset of what works and why."
Leading Edge has not only helped to launch the careers of several bestselling authors, it has also helped to boost illustrators and visual artists as well. In 2002, under Peter Ahlstrom's leadership, Leading Edge won the Chelsey Award for best cover art. "It tells artists that here's an avenue that we can get into," says Dave Doering.
Of all the accomplishments of the class that wouldn't die, however, the annual Life, the Universe, & Everything symposium (LTUE) has had perhaps the greatest impact on laying the groundwork for a flourishing of the arts in the LDS science fiction and fantasy community. Like so many other things, the symposium began almost by serendipity. In February 1982, the BYU administration brought in Ben Bova, a prolific writer and one of science fiction's most accomplished editors, to speak at a university forum. "We got a call one day from Doc Smith saying that the university was going to host the editor of OMNI magazine," says Dave. "The administration called up Doc Smith and said, 'We've got him for the day—is there anything else we can do with him?'" Dave Doering put together a program on short notice, and the rest of Xenobia immediately rallied behind it. "After the session," says Dave, "we took Ben and his wife to Betty Pope's house, which wasn't too far from campus, and had a reception up there with everybody." The success of the reception left an impact not only on the Bovas but on the students as well. "That really gelled in our minds that we should do a continuous symposium of our own." The following year, the students invited Orson Scott Card, and the year after, Frederik Pohl and C. J. Cherryh. Word quickly spread about the hospitality and enthusiasm of the students at BYU. "Science fiction writers will talk," says Carolyn, "and Shayne led the way in being the ultimate host." As the next generation of science fiction and fantasy writers at BYU began to take over from the original Xenobians, the symposium quickly grew into a major event, drawing in several big names from the field such as Alan Dean Foster, Michael Whelan, Algis Budrys, Lois McMaster Bujold, Tracy Hickman, L. E. Modesitt, Larry Niven, Jerry Pournelle, David Brin, and many others.
An academic gathering of science fiction and fantasy enthusiasts across numerous fields of study, the LTUE symposium has contributed immensely to the creativity and personal growth of readers and writers in both the BYU and wider Utah communities. One of the things that makes LTUE so unique is the broad academic quality of the event. "BYU brings in a higher caliber of person," says Jonathan Langford, one of the early organizers of the symposium. "In a lot of places, fandom is composed of people who have nothing better to do with their lives, whereas at BYU people who have plenty to do with their lives found that what was going on in the science fiction and fantasy community was so interesting, and the people so talented, that they chose to spend their time there." Unlike other literary gatherings, LTUE has always brought in professors and experts from numerous fields of study—a useful approach for both readers and writers of science fiction. "One of the things I loved about the symposium was that it wasn't just a literary thing," says Cara O'Sullivan. "Literary conferences are more one-dimensional, geared towards literature and literary criticism—which is wonderful, but science fiction involves so many other things." Says Jonathan Langford, "At LTUE, panels on worldbuilding are taught by actual professors of the sciences—people whom science fiction and fantasy authors should be taking notes from." Among science fiction and fantasy gatherings, LTUE was one of the first in the world to approach the genres from a serious academic perspective. "The symposium became a venue that allowed us to bring in scholars from across the world," says Shayne Bell. "We actually considered this genre from the scholarly point of view. It wasn't a flippant, comical treatment at all, but a very serious treatment, of not just life but how to live it well." At the same time, by attracting renowned writers and editors from the wider science fiction and fantasy community, LTUE has helped to break down the stigma of Utah as a cultural and literary backwater. "We were, early on, among the very first to consider science fiction from a scholarly point of view," says Shayne, "and it did help us to bring actual working editors from profit-making magazines to the university to hear them speak." LTUE has also provided excellent career resources and networking opportunities for writers. "LTUE helped many of us to get our foot in the door," says Diane Read. "It gave us insight into publishing…. Personally, there is no way I would have succeeded without the networking I had through LTUE."
Perhaps most importantly, however, the uniquely religious setting at BYU has allowed LDS readers and writers to infuse science fiction and fantasy literature with a unique gospel perspective. "We are endowed from our creator with a desire to be like him and to create," says Dave Doering. "There is much in this world that discourages creation, and I thought it would be nice if we provided a fertile garden, to make this come together and to flourish." In numerous ways, science fiction and the restored gospel have proven surprisingly compatible, especially in "the exposition and exploration of ideas at the margins of conventional thinking," as Terryl Givens notes in People of Paradox. "Universal curiosity about everything is an aspect of divinity," says Jonathan Langford. "Mormons think cosmologically and therefore have a natural affinity to science fiction and fantasy." Many science fiction themes resonate with LDS theology and experience in ways that they do not with other religions, and at LTUE, readers and writers have an opportunity to discuss and explore this resonance in a way that can't be done in any other setting. "It's wonderful," says Jonathan Langford, "because you get a chance to see it in a startlingly new context that makes it real and allows us as listeners to broaden our minds and to think and to learn."
Since the passing of the class that wouldn't die, the writing community that they helped to form has grown and flourished, laying the foundation for LDS writers to make a significant cultural impact on the world. "I can't help but think that we were laying the foundation for a burgeoning in the arts," says Dave Doering. "Leading Edge and the symposium gave encouragement to this audience—to feel that not only were they capable, but they weren't alone." The inclusive, volunteer-driven spirit found within the Church has played a large part in the growth and success of the LDS science fiction and fantasy writing community. "We are from a community of people who are trained to help each other and give service," says Dave Wolverton. "We don't see it as competition." This same spirit of service not only connects other LDS writers with each other, but it also allows them to reach out to the world at large and share, through the unique genres of science fiction and fantasy, that which is "virtuous, lovely, and of good report." "We wanted to change the world for the good—we wanted to make it better," says Shayne. "We're part of this wider, larger movement of science fiction and fantasy. One of its goals is to change the world—to make it better." "Mormon writers have a storytelling ability that they've been waiting for and been anxious to hear from," says Dave Doering. "We've got that writing, because there's a belief we have about life that [the rest of the world] can't imitate, because they've lost it. We've got it." In laying the foundation for all of this, the members of the class that wouldn't die often referred back to President Spencer W. Kimball's call for Mormon artists to make a name for the LDS people in all the arts. "I remember reading that issue of the Ensign," says Shayne. "I put it down and said to myself, 'I will answer this prophet's call.' And others did the same. That was a driving force for us…. It's why we kept fighting: we wanted to answer the prophet's call."
In science fiction and fantasy more than perhaps any other genre, Latter-day Saints have made and continue to make a name for themselves, largely because of the contributions of that class. From Dave Wolverton, Dan Wells, and Brandon Sanderson—all past editors of Leading Edge—to the many aspiring writers and published LDS authors who attend LTUE, the Latter-day Saint science fiction and fantasy community is answering the prophet's call. ❧