Arisael Rivera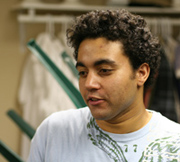 What was it like founding New Play Project?
I was a theatre arts studies major and had about a year left before I would be graduating from BYU. There were four of us in my playwriting class who went to lunch together and started chatting about plays and playwriting. Eventually, after much joking around and eating some good food, we talked about putting our own plays together. After a while, at the end of winter semester 2006, five of us got together and read through a bunch of our plays. There were many that we liked, and we found some similar themes in them.
I was heading back home to New York for my brother's wedding and the rest were splitting up a bit as well. So the end of June came by and I got back. James Goldberg and I reconvened and decided to finally put on auditions. We picked about five plays for sure and wrote two more within the next two weeks for the specific performances. We had auditions and, between James Goldberg, Jennefer Franklin, and me, directed most of plays. It was pretty insane.
The show was a huge success—more people than we thought came out to our three performances in the Talmage Building auditorium on BYU campus, which we were able to book thanks to the Experimental Theatre Club. Two more performances there led us to get certification to become a non-profit theatre organization, and in December of 2006 we officially became a non-profit theatre company with our first performance outside of BYU held at the Provo Library Bullock Room in February of 2007. We've been moving along ever since, now performing in Provo Theatre Company (since December of 2007), and we hope to continue there.
What has your experience with New Play Project been like so far?
NPP has been a good experience. By far the best part for me is watching it grow—the audience that comes back for more, and the actors who keep auditioning. As we've grown, we find more people who keep coming back—people like Adam Stallard, who heard of us and started helping out by transporting boards of wood to the Provo Library. Now he's our managing director. People like Jana Stubbs, who auditioned, got in, and from then on has been with us; now she's assistant directed and has also directed an award-winning show. Not to mention Melissa Leilani Larson, who jumped on board as a stage manager last December and has been with us since, and David Tertipes, who came to auditions once when I invited my ward at ward prayer and is now our technical director.
And of course my lady, Lindy Hatch, who I coaxed into performing in my play in the first show, Love Songs and Negotiations, and who is now our advertising director. NPP has just been a pleasure to be a part of and to see grow.
How do you see NPP affecting and influencing the Mormon arts world?
Honestly, I like to believe it already has and will continue to do so by giving young Mormon playwrights a place to tell their stories. I believe that playwrights, actors, and directors are all storytellers, and NPP is saying we don't necessarily write books about what we believe and what we go through, we're not knocking door to door sharing the gospel, but we're writing, producing, directing, and acting in plays. We're storytellers and this is how we tell stories.
Art is an amazing place to start a conversation, and I think NPP is starting an important one about faith, about life, and about finding hope in a world that continues to get worse. ❧