Bryan Mark Taylor
Bryan Mark Taylor is currently working out of his Bay Area studio and teaching in the Graduate School at the Academy of Art University in San Francisco. Bryan has won numerous awards including "Best of Show" and "Collectors Choice" at the prestigious Laguna Plein Air Invitational. Bryan's work has been featured in
Southwest Art
,
American Artist
,
American Art Collector
,
Plein Air
, and
Fine Art Connoisseur
magazines. Bryan was a featured speaker at the 2012 International Plein Air Convention in Las Vegas. Bryan is represented by galleries in California, Texas, Colorado, Maryland, and Utah, and his work is found in private, corporate, and museum collections around the country.
Website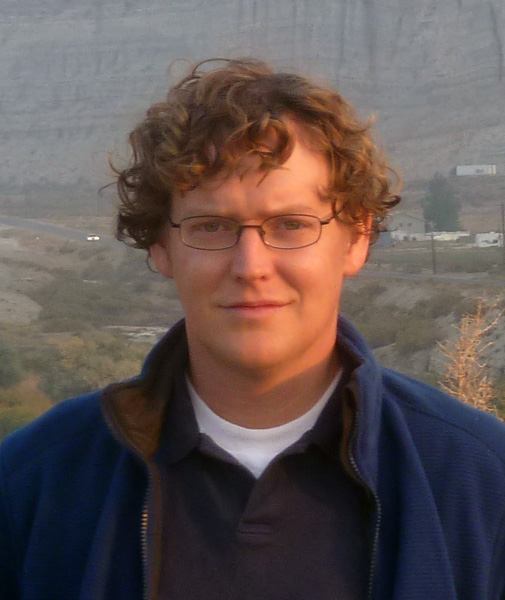 How did you first become interested in painting? What led you to plein air in particular?
When I was eight years old my father and I were heading south on the I-15 freeway somewhere between Malad and Tremonton in northern Utah, and he asked me, "If you could be anything you wanted to be, what would it be?" (My dad loved motivational speakers and would often have us listening to guys like Brian Tracy, Denis Waitley, and Zig Ziglar when we went on trips.) I told him without hesitation I wanted to be an artist. It totally surprised him since he didn't know I was even that interested in art. But to my parents' credit they enrolled me into the Salt Lake City Art Academy a couple weeks later where I began my formal studies in art. Now, over twenty-seven years later, I look back at that experience with a little bit of wonder and gratitude.
Plein air painting was a natural fit for me because of my love of traveling and the outdoors. I have great childhood memories backpacking, fishing, skiing, and biking with my family. So painting outdoors became a natural extension of my love of nature. For me, painting en plein air is more than an occupation—it is a lifestyle. I spend a significant number of days each year painting outdoors and studying and observing nature's everyday miracles. Effects of light, atmosphere, weather conditions, and seasons, as well as rhythmic movement of clouds, waves, or a busy street, continually fascinate me. These moments out of doors are an essential muse as well as a way to rejuvenate both body and spirit.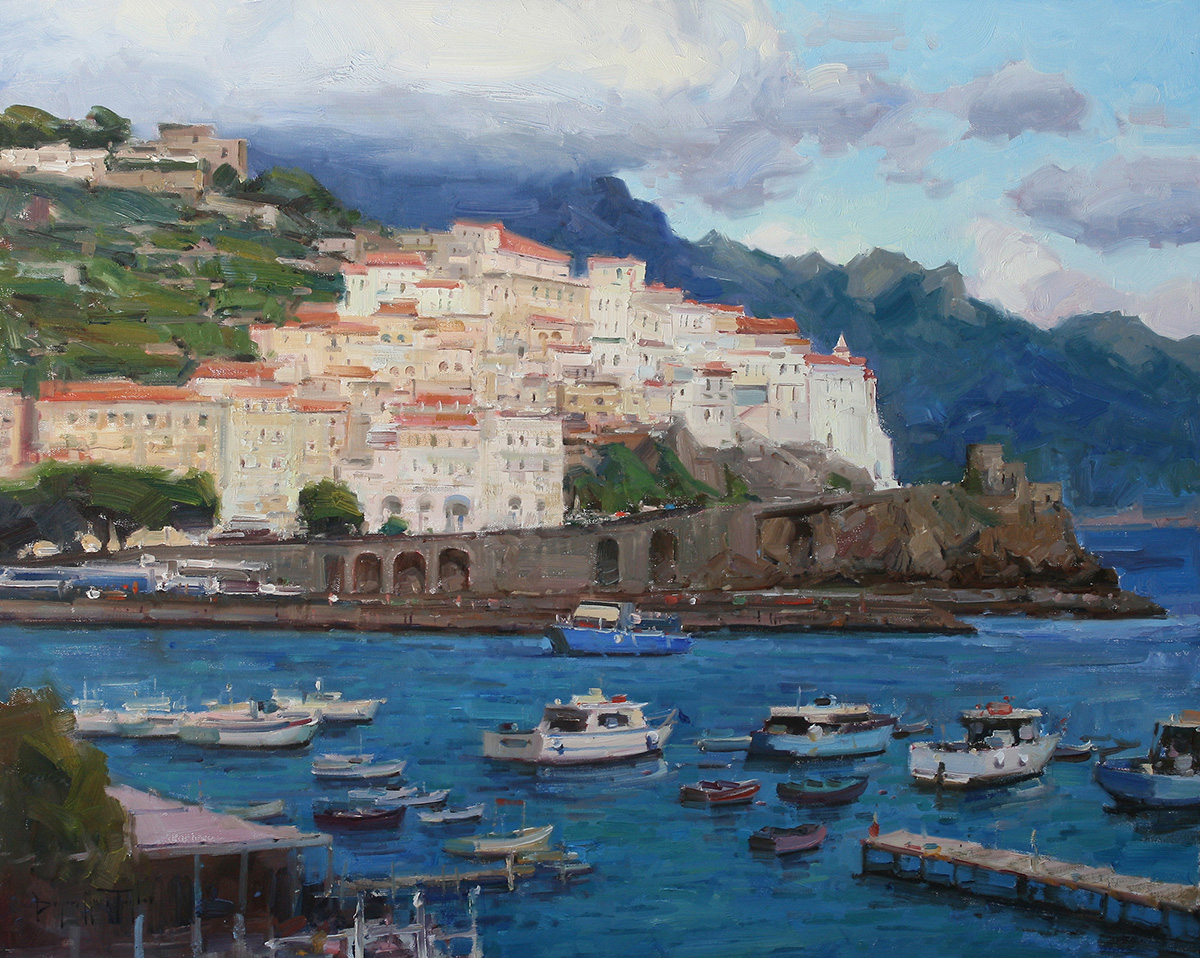 When painting en plein air, I spend several hours on a given piece and then move on to another idea if time and energy permit. I typically use a canvas 12×16″ or smaller so I have plenty of time to address the subject and idea properly. These pieces are often loose, fresh, and spontaneous. Often, I feel completely fulfilled with a piece painted out on location; I decide not to take the idea any further but leave the work in its state of freshness.
Although I am usually satisfied with the work I have produced in the field, at times I don't feel the creative cycle is complete until I take my best observations into the studio and create a larger, more refined painting. Additionally, certain stunning subjects—such as a busy street, a quickly changing sunset, a narrow pathway, or a windy cliff—aren't conducive to painting on location. In these situations, I have to be content with taking photographs and relying on experience to create the same mood as if I were there. Photographs are a useful tool but cannot replace the experience gained from repeated outdoor study. I have found the more time I spend outdoors painting, the better I am able to glean important aspects of a photograph. I can then create a similar freshness whether indoors or out. As I look back over any given year, perhaps more of my time is spent painting in the studio than on location. However, it is my time spent outdoors observing Mother Nature directly that ultimately inspires all of my works.
Tell us about your painting Shaped by the Wind.
In many ways I consider this more of a portrait than a landscape. The subject is one of the ancient cypress that grow on the cliffs of Point Lobos just south of Carmel, California. Just like the wrinkled face of an old, weathered sea man, this tree tells the story of many battles with the elements. As it was illuminated by the afternoon sun, I was fascinated by all the twists and turns and beauty of the wood and foliage. On a deeper level it is about a long life and its individual struggle with mortality and the beauty created from that struggle as seen through its weathered form.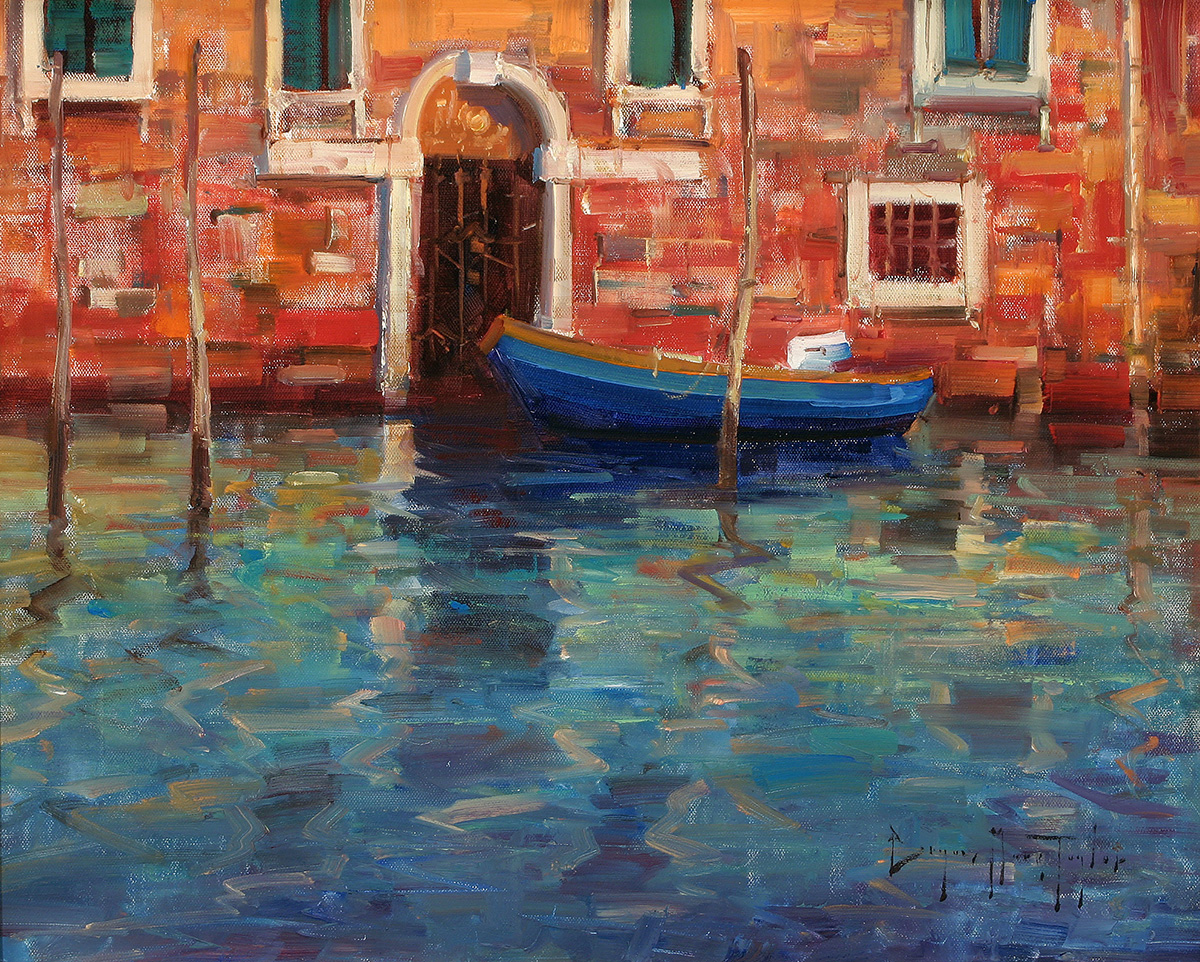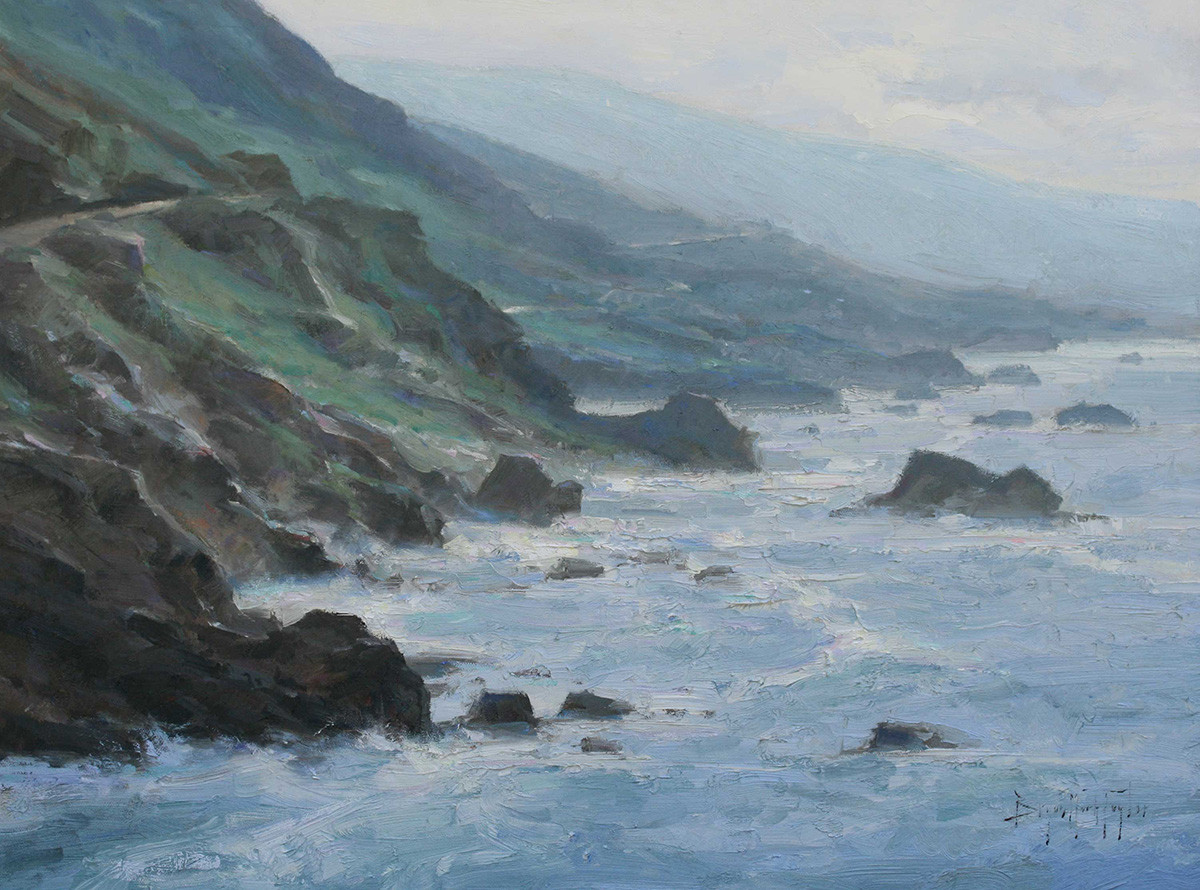 How has the gospel influenced your work?
In today's world, in which post-modern aesthetics and secularism are the norm, I understand my belief in God, Spirit, and beauty could be seen as artistic heresy or, at best, naïve, yet I'm willing to take the risk because of the tangible truth, culture, and consolation it brings to my life and work. In a way the gospel is a lens through which I see the meaning of life and nature and its purpose in our growth and future destiny.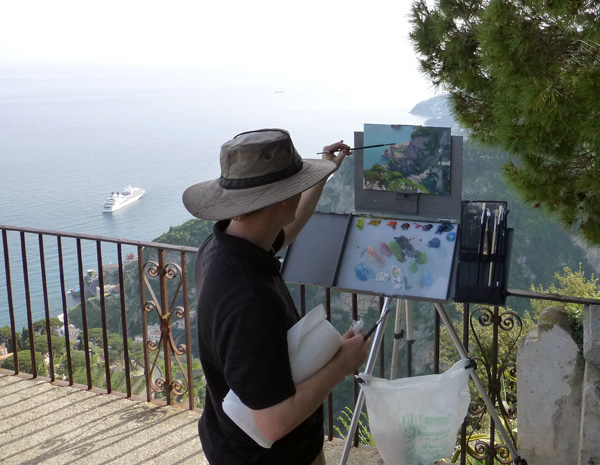 How do you see your work helping to build the kingdom?
I see the building up of the kingdom of God as both a physical and spiritual pursuit. Joseph Smith was not only trying to build a Zion society but Zion the city. In the thirteenth Article of Faith we read: "If there is anything virtuous, lovely, or of good report or praiseworthy, we seek after these things." I believe this statement applies as much to the arts as anything else. It is in this context that I see my art helping to build the kingdom.
In contrast, Moroni prophesied of our day when he said the Book of Mormon "shall come in a day when there shall be great pollutions upon the face of the earth." I believe Moroni spoke of pollutions in our highest institutions, in all media and entertainment, as well as the environment. This tide of pollution and ugliness exists today in every facet of our culture and is multiplying at digital speeds and I feel an ever greater urgency to stand up for beauty and belief.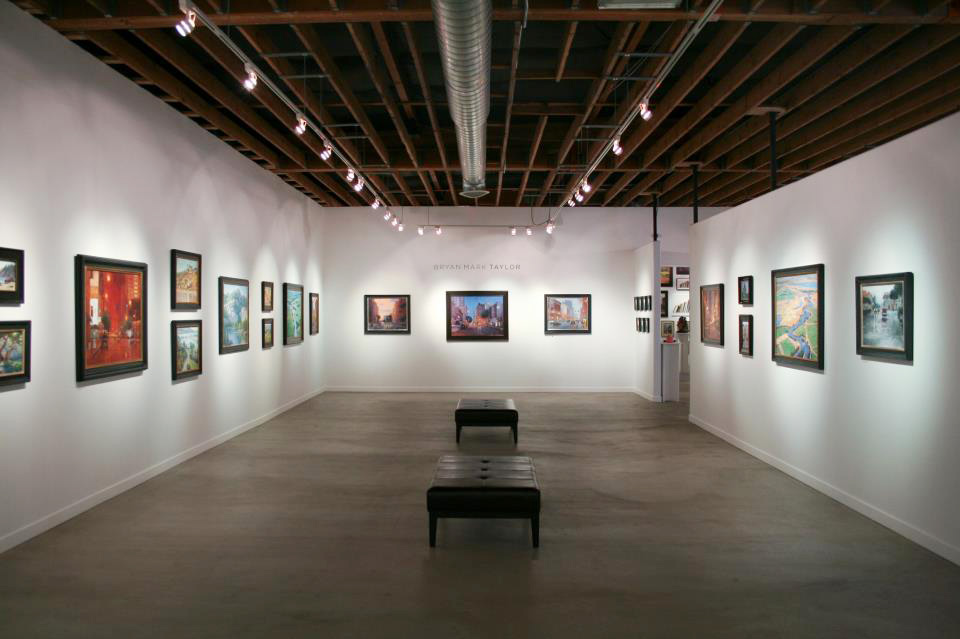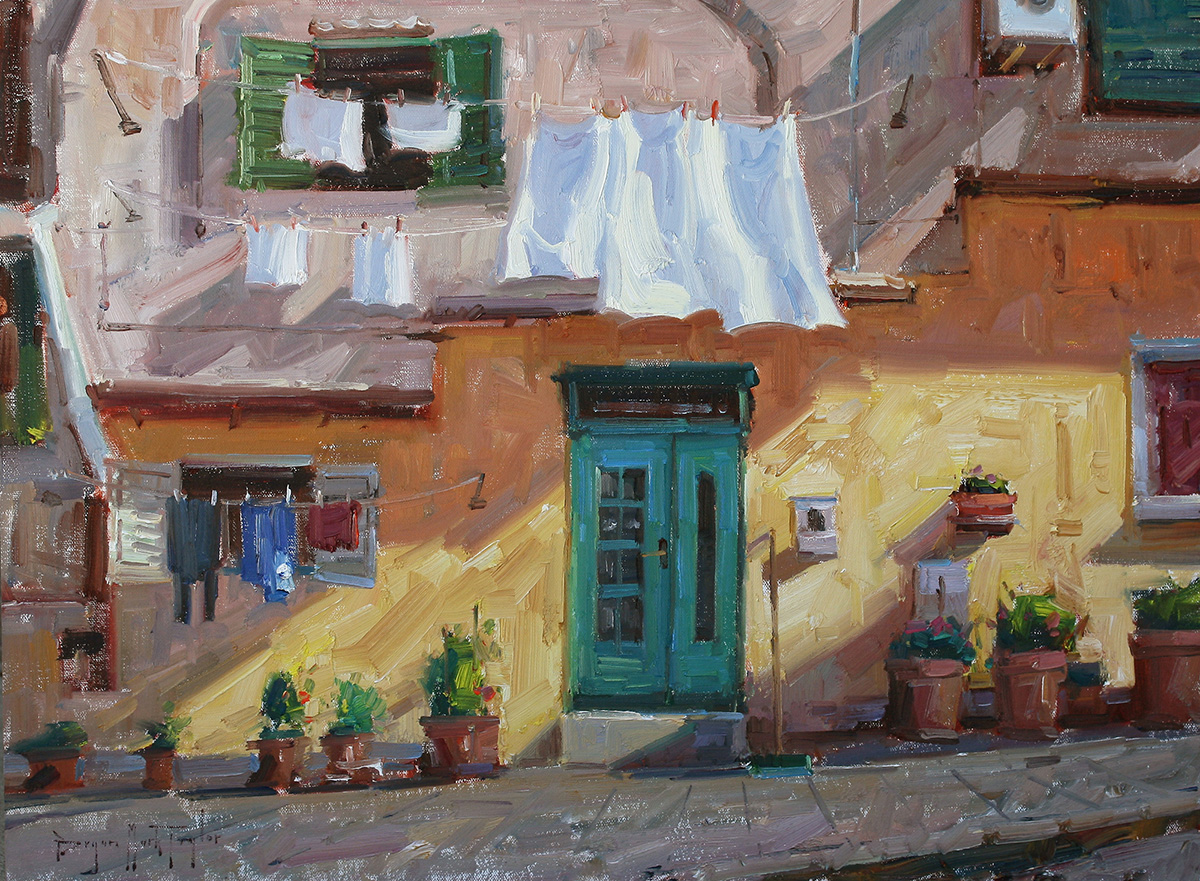 How have other artists influenced your perspective on the connection between your art and your faith?
It is clear that great landscape painters of the past such as Corot and Inness also had a deep connection to nature and saw their art as a spiritual pursuit. George Inness said: "The true end of art is not to imitate a fixed material condition, but to represent a living motion," and added: "the intelligence to be conveyed by it is not of an outer fact, but of an inner life."
In the painter's mind, these Swedenborgian beliefs of "inner life" and "living motion" are given a higher priority than ocular observations and other temporal aspects of nature. These beliefs had a profound influence in both Inness's choice of subject and manner of painting.
Although our beliefs don't completely match up, I do believe that there is a spirit in all living things and it is this spirit that animates, gives life, meaning, and significance to the forms, textures, colors in the physical world. However, Joseph Smith's unique understanding of the significance and necessary temporal embodiment of these spiritual forms (Moses 3:5) has led me to believe the inner light or spirit is in no way disgraced by the visual or physical form. In this sense I'm not trying to see beyond the temporal world toward a more transcendent beauty, but instead seeing the spiritual and temporal as an inseparable marriage where both components play an equal and vital role in my work as well as providing the proper context and justification of representational painting.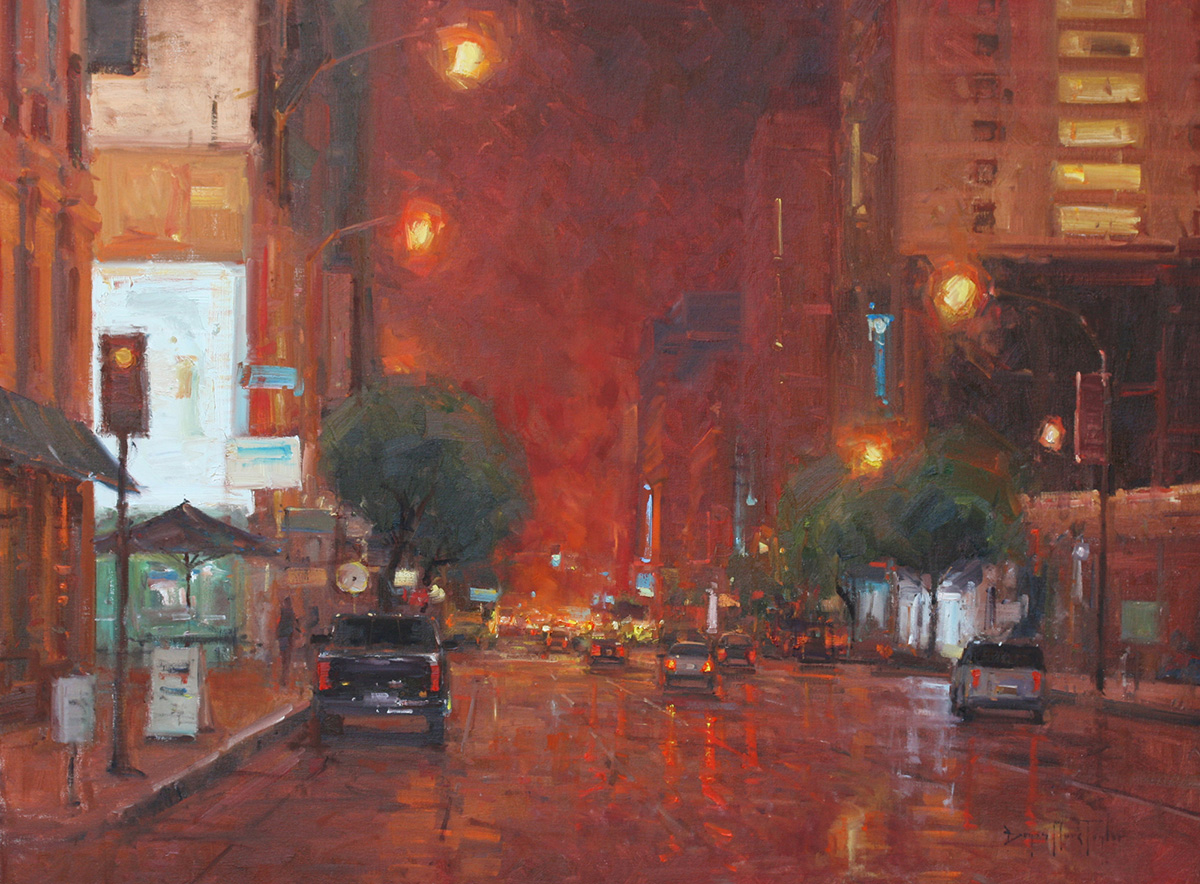 When you are painting outdoors, do people often try to talk to you about your painting, and if so, how does that conversation usually go?
I get a lot of interaction when I'm in high traffic areas like the city or coastline. I've met some really interesting people that way, some of which have bought the painting on-site. While in the Amalfi Coast this past spring I met a couple who lived about twenty minutes away from my hometown in California and they fell in love with the painting I was working on and added it to their collection. However, for the most part this experience is rare. Most people haven't had much experience with plein air painting.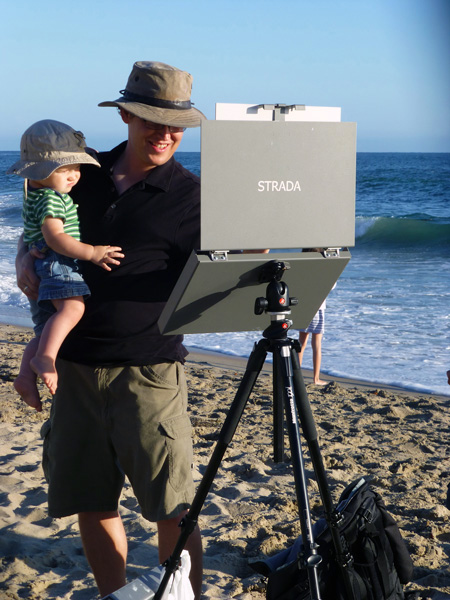 Can you tell us about the conception and production of the Strada easel?
My conception of the Strada easel was part frustration and part inspiration. My previous pochade box slowly disintegrated and I was looking for a different box to purchase and couldn't find one to fit my needs, so I decided to make one over a Christmas break. However, I soon found it was easier said than done. I went through several prototypes.
During that time I was reading Steve Jobs' biography and his philosophy on how to make a really great product—namely, simplicity and design. That nudge was all it took for me to get the design I was looking for. The result is a simpler and cleaner design than other pochade boxes on the market, thus reducing the manufacturing cost. It uses friction instead of extra knobs and arms to twist and adjust. Nothing protrudes from the outside surface of the box which could snag on the carrying case or backpack or break off if the easel is dropped or tipped over. It has a soon to be patented self-locking mechanism. Making it out of aluminum instead of wood allows the box to be slimmer, stronger, and lighter.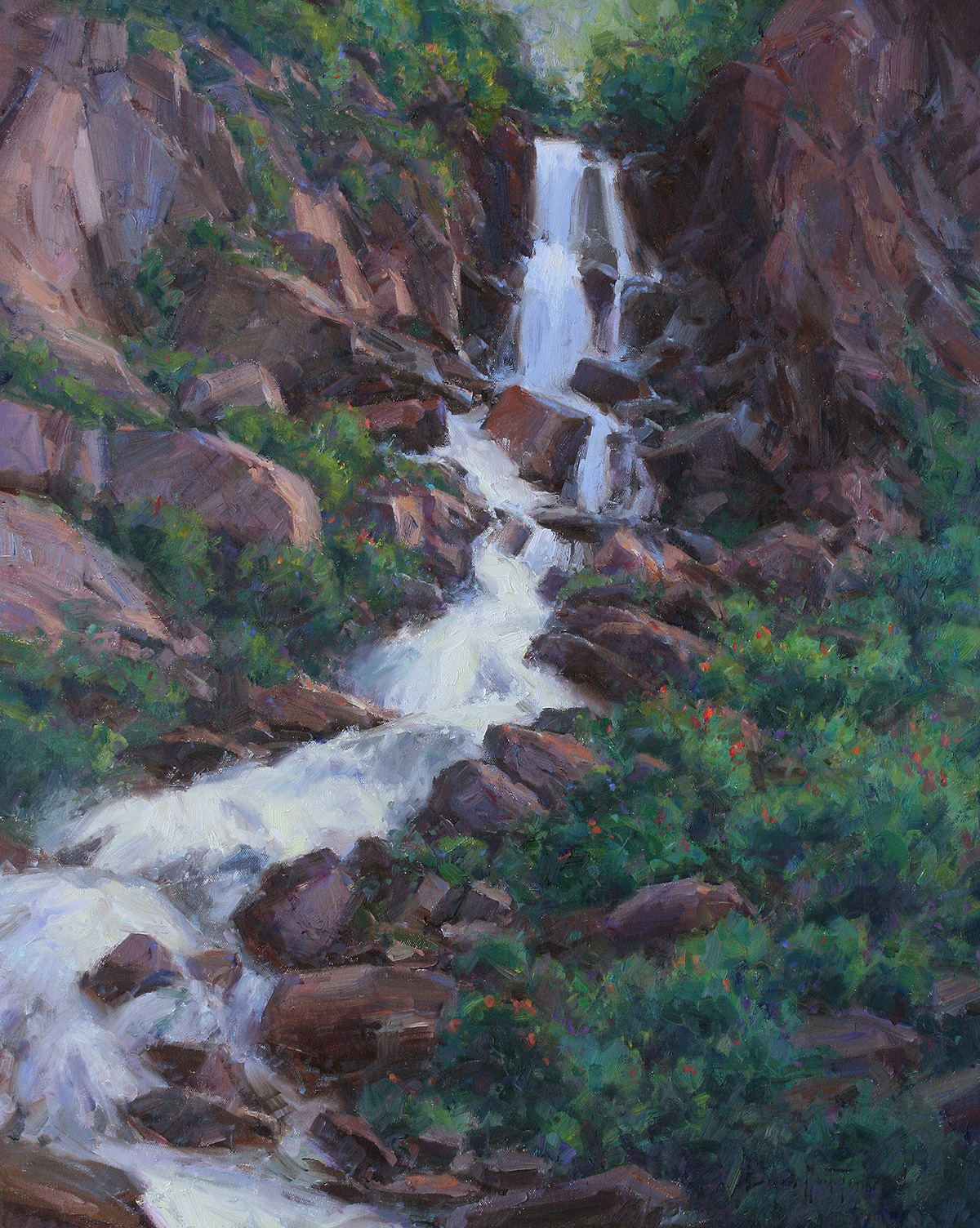 I've noticed that your paintings portray a wide range of scenes, including different levels of man's impact on the world. Which type of scene—wild landscape, farm, city, etc.—do you prefer to paint? Why?
We live in an interesting time where man has become more self-aware of his impact on the environment. Although there are many ways to look at that problem, for me a big part of my art is about how to find a balance of the natural and man-made as well as an observation on how these environments shape our lives for better or worse. Personally I feel most comfortable living in an suburban area, but I find aspects of my character are pulled toward more rural areas as well as the busy city. The ability to move between these environments and see their impact is an interesting part of life today.
Tell us about your painting Weekend Drivers.
Weekend Drivers is a typical example of San Francisco's steep hills bathed in the light of the Bay Area. I'm continually fascinated by the crowded buildings stacked up against each other, which gives the scene a somewhat organic flavor. I see all these buildings like a crowd of people, each one with a unique personality. My goal is to try to find harmony in all this chaos and see if I can get all these competing egos to work together.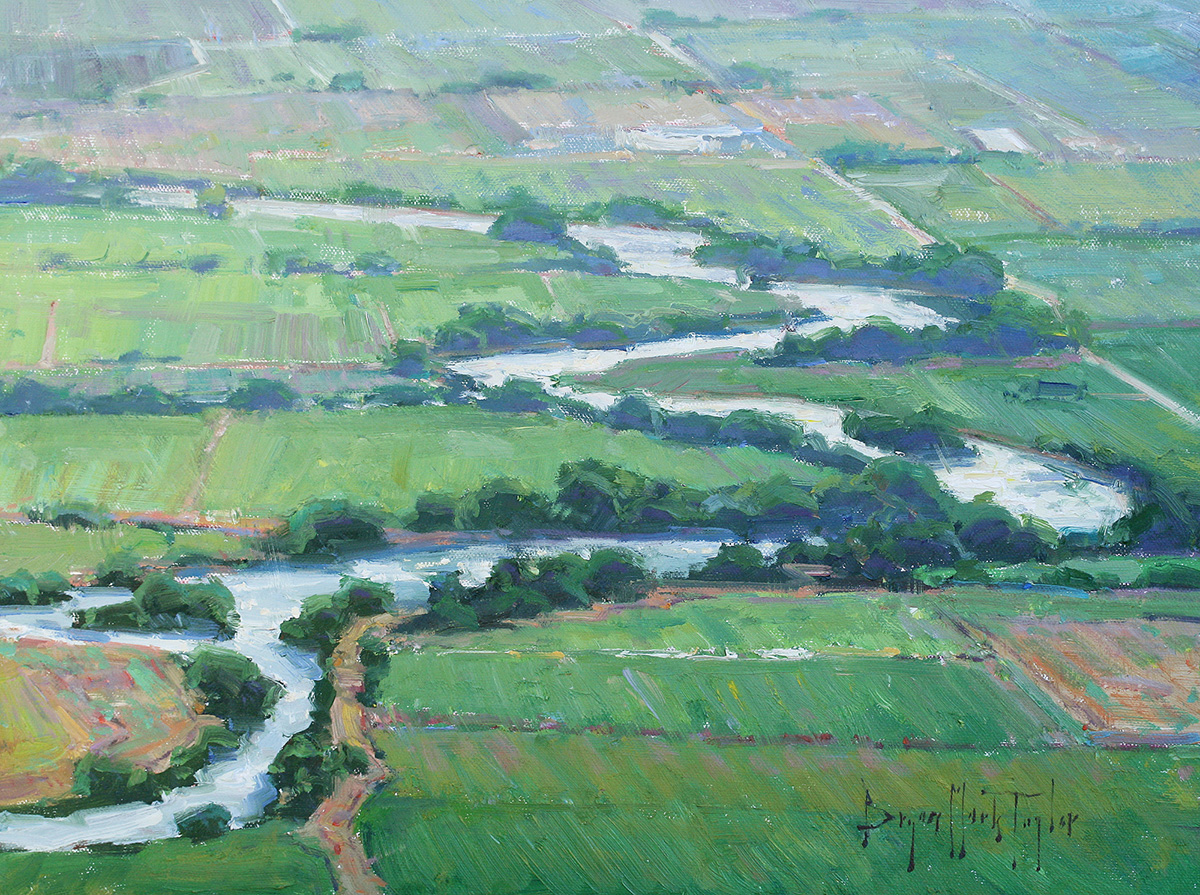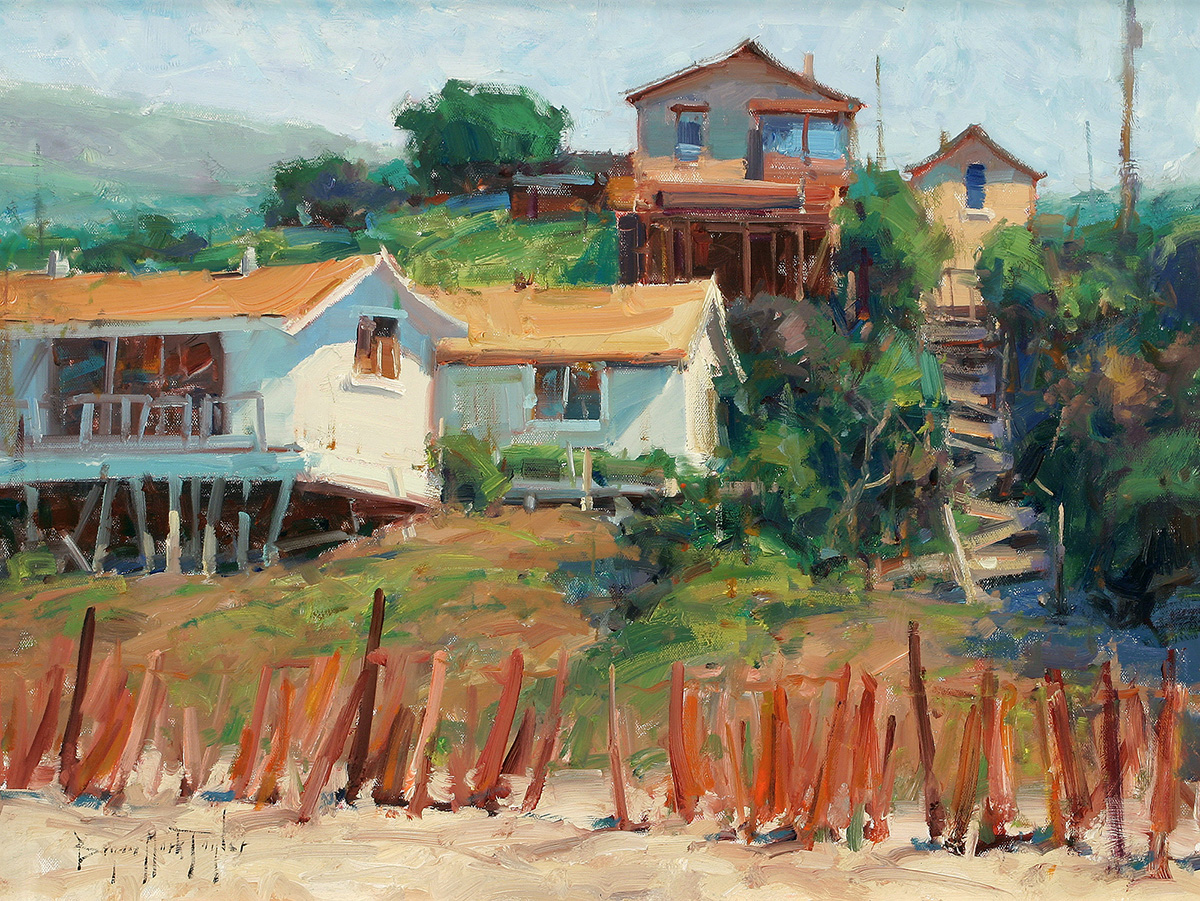 Was there a painting you ever regretted selling?
I served a mission in Milan, Italy (1996–98) and have been back six or seven times on painting trips. I did a painting in Venice at St. Mark's Square one time during "Aqua Alta" where the city gets flooded in the winter. It was such a surreal experience to paint the city "underwater." I view my paintings as journal entries and I wish I kept this one because of the special memory.
What are you currently working on?
Right now I'm working on a multi-year project painting the Mormon Trail from Nauvoo to the Salt Lake Valley. I've travelled the entire route and painted along the way. I'm doing it with two other LDS artists, Josh Clare and John Burton. We planned the trip in various stages in order to capture the landscape in different seasons. We wanted to experience these locations as the pioneers did, so we painted these scenes en plein air.
This project is more than just a visual travelogue or a faithful depiction of scenes along the Mormon Trail. Our vision is informed by stories of the past as well as our own deeply held faith. However, we weren't interested in staging models with handcarts and pioneer clothing. By depicting the landscape simply as we experienced it on our travels from Nauvoo to the Salt Lake Valley, we merge our personal experiences with the legacy of the early Mormon pioneers. Because of the unique, dual nature of this project, the paintings engage regardless of the historical knowledge or faith of the viewer. ❧