Dani Jones
Dani Jones is an illustrator based out of New Hampshire.
Website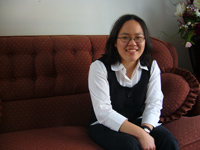 How did you get your start in illustration?
I graduated from BYU–Idaho in 2005. Immediately after that, I started looking for work. I spent the summer building my portfolio and sending out samples. I was also able to find an agent, Tugeau 2, who was willing to represent me.
In the fall of 2005, I took a visit to New York City and met with a couple of children's book publishers. I received my first book job as a result of this trip, a picture book called Elfis. It was a great project, and it helped give a little jumpstart to my career. I have been able to work fairly steadily ever since.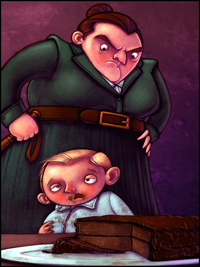 You've worked with both traditional and digital media. How have you adapted your skills?
It's just a matter of learning the tools. The computer intimidates a lot of people, but I enjoy all the technology and geek stuff, so digital painting was relatively easy for me to learn.
On the computer, you still have to deal with the same challenges, like color, drawing, and composition. Those are what I consider my true skills. The computer is just the medium I choose to express them. If I enjoyed oil painting more, I would be oil painting right now, but as it happens, I like Photoshop.
However, I'm grateful that I got my start in traditional media. It's hard to learn specific artistic techniques when you're distracted by all the fancy tools on the computer. Pixels just don't give you the same amount of texture and subtlety that is inherent in regular old paint. In Photoshop or Painter, you practically have to wrestle with it to get the same qualities. So, I recommend all artists develop their traditional skills before learning the digital ones.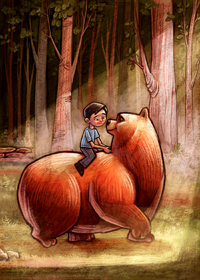 Tell us about your recent "Three Little Pigs" project.
My foremost goal in my career is to illustrate children's books, so I'm always trying to create the appropriate artwork and market myself with that in mind.
The "Three Little Pigs" was a project I created for myself. Basically, I set a goal to illustrate the story, with the intention of sending it out to publishers as a promotional booklet.
I posted my process to one of my blogs as I was creating it. I got lots of feedback from fellow artists, and it was a really fun experiment.
I ended up sending out the printed versions of the booklet late last year. You can also view the final result on my website. The idea is that a children's book publisher can look at this and see that I have the ability to do the kind of work that they are looking for. As an illustrator, I'm constantly trying to think things up like this in order to help stay on top of my game and ahead of the competition. I'll probably do a similar project this year as well.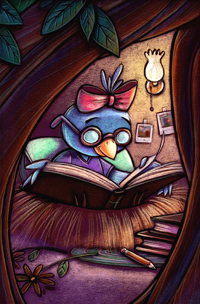 Looking back on your education and career thus far, what, if anything, would you do differently?
I'm still not very good at the business side of things. I was really fortunate to get a rep early on, because she deals with a lot of that stuff for the bulk of the work I get. But I'm still trying to be more independent in that area by being more consistent with my marketing and educating myself about the industry. I learned a little of this in school, but I wish I'd done more. I now have to learn a lot through trial and error and experience.
How has your family been a part of your career?
My parents are highly encouraging, which has been the best motivation ever. I think more importantly, though, is that they have never been the least bit discouraging, which I think is the harder task for a logical, work-for-a-living parent of an artist. But they never suggested I choose a different major or push it to the side; they just bought me more art supplies.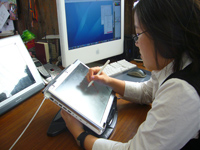 In one of your blog posts, you explain that your main goal is to draw every day. How has that benefited your work and your life?
A freelance illustrator has to constantly come up with ideas and new work. When you add other tasks like paperwork, e-mails, marketing, etc., it becomes harder and harder to keep up with that. My goal is to make just one drawing per day, no matter what else might be going on. Sometimes it is just a little ten-minute doodle. As an artist, this helps me tremendously because it keeps me creatively in tune, always thinking, and always producing.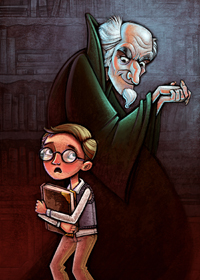 Who has most influenced you as an artist and how?
Artistically, probably my professors at BYU–Idaho. The illustration staff included Dan Burr, Scott Franson, Wade Huntsman, and Jeff Carter, not to mention all of the other drawing and painting teachers that helped me out a lot when I was just starting out. They were really great teachers, had a passion for art and design, and really cared about the success of their students. I wouldn't be here without their help.
How do you see the gospel influencing your work?
Being an artist, and an illustrator in particular, is very hard. Creative freelancers deal with very specific problems, like self-motivation, discipline, and craft, which are more prevalent than in other careers. You have to keep coming up with new ideas and creating better work, often without the support or push of coworkers and bosses.
The gospel teaches people to always strive to be better and to be positive, and in that respect it has greatly influenced how I go about my career and the type of work I choose to create. What I have learned in my daily life—setting goals and perfecting oneself—helps me in my working life, too. I'm contacted by other artists all the time who ask me how I stay creative and motivated; in an industry like this, you simply have to stay optimistic and always move forward, because there is a lot of criticism and rejection that comes with it. I simply don't know how far I would have gotten in this career without the gospel principles I've been taught all my life.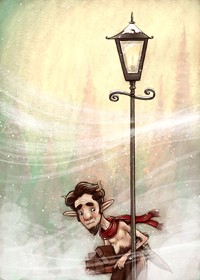 Has there been a time where your faith has been tested by your profession?
I work in a pretty rosy profession. There aren't too many issues to deal with in children's illustration. However, there are many beautiful books and images being made that may convey a message I don't particularly agree with. Living in the arts, I also have to learn to not be affected by certain trends and a modern society that may not mesh with my own goals or direction, when it might be easier to follow what's popular or cool.
What is the role of an artist—particularly an LDS artist—in our society today?
Artists have the ability to control our culture—they control what's in our books, movies, TV shows, and music. These kinds of things highly influence our culture and society; the better we reflect the world as artists, the better we will be at helping the goals of the Church. LDS artists have a particular view of the world that is positive; we believe in a hopeful future and the good in people. However, it's probably cooler nowadays to be pessimistic and gritty, and LDS artists have to learn to compete with that.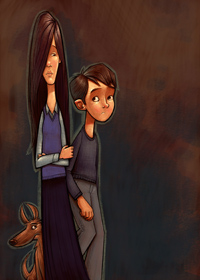 I remember one particular incident in school where I made an illustration that depicted a family that was kind of dysfunctional. A professor noted that the image would be just as effective with a happy family, and to think what kind of message I wanted to convey. It made me think about my artwork differently.
Not that I think that all images should show a shiny, happy world, because problems do exist; but when you have the opportunity to be positive and not contribute to the downward spiral our culture tends to move in, take it.
Artists should constantly be bettering themselves and their craft, and concentrate on creating beautiful work that really touches people, and not fill them with junk.
I hope that by creating positive, beautiful artwork, I am able to inspire other artists to do the same. Also, I have been blessed to share a lot of my experiences through my blog, which has proven to be a great way to educate and inspire others. It makes me happy to know that my little bit of knowledge has been able to help other artists achieve their own goals and keep an optimistic attitude in this difficult profession. ❧