Danor Gerald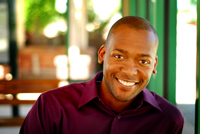 When and why did you begin acting?
I've always wanted to act since I was a child. My mind was made up during a game of dodge ball after school when I was about nine or ten where I got hit by one of the tennis balls we were using. I curled up into the fetal position and moaned in pain. Everyone surrounded me, extremely concerned. Then I suddenly stopped writhing, pointed up at them and started laughing. They were angry, but they were cracking up at the same time. At that moment, lying on my back in the grass, I decided to become an actor.
I didn't do any child acting. I wanted to get involved, but both my parents worked so I had no way of getting representation or auditions. Then I took a theatre class in ninth grade, but the closest thing to acting I did in high school was being the mascot my senior year. I knew I would pursue acting in college where I believed it would be more challenging. I started as a theatre major at a private university in Arkansas, but after two years I decided that wasn't the right fit, so I went back home to Dallas. I was struggling with my desire to act, but I was led to the Southwest Actor's Conservatory, where I began my professional career in about 1994.
It's been an adventurous journey from that point to now. I was led from Dallas to Disney World in 1998. Even with two agents, I couldn't book any film or TV for a while. After about three and a half years I started to shift my thoughts and internalize my work for the intimacy of film. That didn't work so well in a theme park setting, but I started landing TV and film roles while I was there. My major work on camera began six years after I became a professional, when I was led from Florida to Utah to finish my degree in digital cinema and pursue more work behind the camera. In Utah, I essentially stopped doing theatre and shifted my mindset completely to acting in film, and it's been working for me ever since. I have been very blessed. Though the road has been rocky and at times full of confusion, it feels like I've been guided along the way.
Although you've done stage work, most of your acting focus has been towards film. What about your personality and interests lends well to that field?
I learned how to act in the theatre, then I learned how to relate that craft to film. It may sound strange coming from an actor, but I'm actually introverted. When I sit down with a script, I understand what a character feels very quickly. I like to work between the lines, and I think that's where all of the real acting happens. It's the reacting that tells the story. I'm a loud thinker. I really enjoy the collaborative nature of film. I enjoy doing my part to add to a greater whole. Film acting is a perfect fit for that attitude. I feel that an actor is a servant to the director, to the story, and ultimately to the audience. You learn that in theatre so much better than film, actually, because you get instant feedback. You hear the laughs, you feel the tears, and you sense the bated breath.
In my process of preparing for a film role, I try to bring the audience on the set with me. I prepare to touch them through the screen. My improv experience really helps. I never read a script verbatim at an audition anymore; by the time I get it at an audition it's too stale. Plays are crafted, screenplays are drafted. I understand that difference. It's more enjoyable and practical as an actor to focus on the reason you're saying something instead of what you are actually saying. That's the only way you can make genuine sense of Shakespeare for an American audience. So again, my classical training informs my film acting sensitivity in that regard. I try to achieve the feeling of permanent spontaneity on camera that will keep an audience guessing. I won't ad lib unless it's beneficial to the scene and the story. I'm not a scene-stealer; I just try to breathe as much life into the character as is relevant and meaningful.
What power do you think acting in specific and film in general has to shape people's lives?
Acting has a way of moving and shaping people like nothing I know. Generally speaking, film is the most influential artistic tool I've seen in my lifetime. You have millions of people sitting in the dark, being subtly influenced to feel certain ways about certain things at any given moment in today's world. It's amazing what a good movie can do!
What have been your favorite projects?
I did a world premiere adaptation of William Faulkner's novel The Sound and the Fury at the Undermain Theatre Company in Dallas. We were nominated for awards and almost got to perform it at the famous Steppenwolf Theatre in Chicago. I also enjoyed To Kill a Mockingbird at the Dallas Children's Theatre.
I edited a documentary called Nobody Knows: The Untold Story of Black Mormons that was a really unforgettable experience. I have a place in my heart for my first feature film, called Believe, and I also had a really good time filming Forever Strong, the rugby movie by Ryan Little that just recently came out on DVD.
What influence does being a Mormon have upon your work?
Well, I wouldn't be in Utah if I weren't LDS; I'd have never thought of living here. I pray over parts. I don't pray to get parts, but I pray after I get them. When I audition, if I don't get it, then I don't want it. Why should I let it bother me? I have faith in the casting process. That's the only healthy way for an actor to view things. I pray for guidance to make the most of the role and that my choices will be good for the sake of the story. I am selective; I have turned down roles and auditions after reading the sides and seeing the direction of the film. I also try to bring the eternal into my character whenever possible. There are some temporal truths that if performed effectively will reveal a bit of the spiritual, eternal truth in life. I know this is a privilege. I know this is a power. When one has privileges and power, one would be piddling away life's opportunities without prayer. I have been lifted to performances beyond my own ability, and at times I've felt the Lord work through me. Man, that's like an out-of-body experience. I'm a good actor, but I understand that the Lord makes me good. If he gives me every breath, then how can I claim any of it? My words cannot explain how blessed we are, so I'm trying to do it through my art, through the story. That's the influence being Mormon has on me. It gives me a desire to explain to everyone on earth who they really are.
Tell us about your conversion to the Church.
When I decided to leave Arkansas and OBU, I was on a spiritual pilgrimage; I was praying for the Lord to help me find my way home. I had an intense desire to figure out his will and follow it. Then, on Christmas night 1993, I had a heavy, depressed feeling. I felt I should give up on acting. I felt I had frivolous dreams that would not amount to anything. Earlier that evening, I saw an immense shooting star, which gave me a strong impression that something amazing was going to happen that night.
In the midst of the despair, I was hanging around with some friends, and one friend played a song for me, "Chains of Love" by Erasure, with the lyrics: "Don't give up, don't give up…together we'll break these chains of love." It seemed to reach in and speak to me as though it were the voice of the Lord. I somehow knew he was very real and he didn't want me to give up on my dream of becoming an actor. I knew he would help me do what I wanted to do with that dream. I wanted to use acting to spread love.
A few days later, I was led to attend an acting conservatory in Dallas. One night while I was drawing, a church commercial came on the radio about a little girl and her dad. I wrote down what I felt and heard in my mind while listening: "The road to life is clear and foggy, the truth is sometimes hard to find. The Church of Jesus Christ of Latter-day Saints." Several months later I was invited to take the discussions by a classmate's roommate. I had told him I wanted to be baptized, but had never found the right church in which to do it. My grandmother was a Jehovah's Witness and my great-grandmother was a Baptist. I had been to lots of other churches and studied many more faiths, and at that point I was more of a Rastafarian, with dreads down to my shoulders.
I listened to the discussions and I just kept waiting for them to say something that was wrong. At that, I would have told them they were wrong, thanked them for any added truth they had given me, and moved on. But they never did say anything wrong. A still, small voice was whispering, "This is what you've been looking for." Two weeks later I was baptized.
Because of the previous policies of the Church against African-Americans, I've heard of some African-American Mormon artists receiving criticism from other communities for being black and Mormon. Has this been a concern at all for you?
I try not to carry my faith around like a badge of honor for the world to see. I don't think that's a unifying attitude; it's a segregationist way of being. For me, the gospel is about achieving a very personal relationship with the Savior. I haven't had major problems, but I know that things happen behind closed doors that are not always fair, friendly, and honest. I'd be lying if I said I haven't been negatively affected by what has happened behind those doors from time to time. I'm not that naïve, but I'm not that worried about it either. That's partly why I keep my faith between myself and my personal intimate interactions with people. Living in Utah, I don't really get to be a part of those "other communities." I am the black community around here, usually. When my religion comes up among other blacks, they do a double-take, they may ask a couple of questions, and then we just move on. I don't get nervous or worried; there's no need to make a fuss. I've made some friends in the artistic community outside of Utah who've become closer than normal because of the common bond of Church membership. I'm a southern gentleman most of all. Mississippi and Texas, those are my roots. I've dealt with so much racism from both blacks and whites by being black on the swim team in the south; adding the LDS thing was just another natural way to bust a few more stereotypes.
Tell us about your media arts company, Imminent Catharsis.
I work through it as an actor, doing my films, editing, and theatre arts projects. The logo is a shooting star, with the name coming from that cathartic experience I had that Christmas night. But more significantly, it refers to the state of the world. I feel the "Imminent Catharsis" is the Second Coming. Everything feels like there's this big emotional thing coming. Movies, magazines, music, everything is about this rising feeling leading to an emotional breakthrough.
What projects are on deck? What projects do you have further out?
I've got a lot going on. Acting-wise, I have two films in August—a feature called The Last Eagle Scout and a short called The Blue Sweater. In September, I am producer/director of photography for my first feature. I'm working with a new writer/director named Paul Sonnier who just retired from the Air Force. I'm also cast in another feature shooting in October.
I am producing my own projects one by one between acting and editing gigs, but I haven't got the capital to focus on them completely at this point. I'm almost done with an inspirational CD called Acting in Faith: Showbiz Secrets Every Christian Should Know. I'm developing a workshop about all the acting lessons that you don't learn in school. We have so many needs beyond talent and training as an actor. I'm excited about it because it took me fifteen years to figure the stuff out. The workshop will enable others to make progress in their career in a lot less time.
I have written a book of poetry that I'd like to make an art film out of as well, and also a film in the can called Jane's Flour. It's a true story about a black Mormon pioneer. That will be done with post-production in a couple of months. I have a play in script development called Manifest which combines my love of theatre, cinema, and spirituality through mythological stories. I'm prepping a business plan for a modest budget four-film package that I'm starring in.
What do you regard as your most personal and professional triumphs?
Personally, finding the waters of Israel and holding on to my faith and my temple marriage are the ultimate triumphs in life. Professionally, because I feel that honesty and transparency are the benchmarks of a Christian character, I try to uphold those standards. I believe in the goodness of human nature. Maintaining that faith in this industry has been hard at times, but I believe it is a worthy ideal to uphold.
What advice would you give to aspiring Mormon actors and filmmakers?
Get training. Get experience. Define success on your own terms. Don't do what everybody else is doing and expect to be happy. These careers are not cash cows. If you want to do these things, do them because you have to do them. There's a big difference between wanting to act and wanting to be an actor. Doing the right thing is not enough. Doing the right thing for the right reason is what makes your work real and sincere. The same rule applies to your calling, and your parenting, and your marriage, and all that you do in life.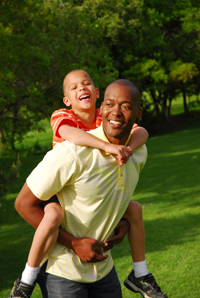 What do you believe to be the future of the LDS film movement?
I think most of what would be considered LDS film will stay within the LDS market until it has matured significantly—until the films can speak for themselves and don't get lost in the translation to other cultures, they will continue to hit a glass ceiling financially. I used the phrase "jello circuit" in cinema school because LDS film strongly resembles the old chitlin' circuit for black musicians, as does the low-budget urban film genre we currently see prospering. The urban films aren't successful for their quality; they are successful because they have a large audience that is loyal and under-served. We could easily replicate this model if we had a greater sense of solidarity within the market.
To grow and stabilize, the LDS film movement has to have a steady production pipeline of films that are better than what we have generally seen so far. The LDS audience wants to have a spiritual (or at the very least emotional) experience from any LDS movie. The movies are competing against Hollywood fare on the very same shelf, and the LDS audience expects their movies to stand up to that same measuring stick.
What do you think is most important lesson that Mormon filmmakers and Mormon artists in general need to learn?
Understand that your faith and your craft should support each other, but they shouldn't control one another. Your art shouldn't define your faith, and your faith shouldn't define your art. You must see clearly, but see everything. We shouldn't judge one another, because filmmaking and artistry is a process of growth for each artist. Experience is the best teacher. What you know now will pale in comparison to what you will know ten years from now, so none of us should think we know it all. We can't expect the world to do anything for us; we are the true rebels. When an artist falls away from the Church, they're not being a rebel, they're being a lemming that follows the masses, and there's nothing rebellious about that. We are the peculiar ones, and we represent something that is a rebellion against this entire world. We should not be afraid of that; it is something to embrace. As standards drop further, we will be considered more and more unique.
And honestly, your art is not as significant as your family and our Savior; it will never be able to save a single soul. Our art can only provide an opportunity to feel God's love and thereby give a personal glimpse into who we really are, which is so much more than any film or work of art will ever be. ❧