David Glen Hatch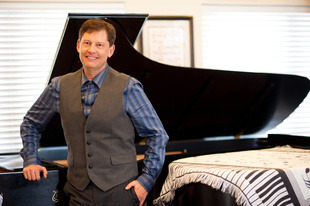 What influenced you to want to pursue a career in music?
I've always loved music! I was told by my maternal grandparents and parents that when I was three years old, I went with them to a dance class in one of their commercial buildings in Provo (they were there to pick up the monthly rent from the teacher) and sat down on the bench to an old upright piano with my feet dangling above the floor and played with two hands the music I had just heard on the radio to which the students had been dancing. This surprised all of the adults, who felt I should begin studying with a teacher immediately. The rest is history. I suppose you could say I was born with "music" inside me! I've known little else and it has been a fulfilling musical life and career.
Did you even consider another career path?
Yes, I loved school and was always enthusiastic about learning and often fantasized about other fields of endeavor with the main ones being: Astronomy, Human Behavior, Political Science, and Law.
Do you play any other instruments?
Yes, the French horn.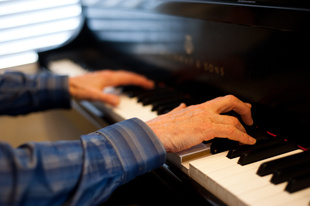 What have been your favorite venues to perform in and why?
The following concert halls have been my favorite in which to perform because each of them boasts incredible cultural history—some back to the nineteenth century on stages where some of the world's greatest performed themselves—Beethoven, Chopin, Liszt, Schumann, Debussy, Rachmaninoff, Prokofieff, etc. These favorite halls include Izumisano Concert Hall (Osaka, Japan); Recital Hall (Shanghai Conservatory of Music, Shanghai, China); Music Hall of Composers (Moscow, Russia); Troldhaugen Concert Hall (Bergen, Norway); Music Hall of the John Calvin University (Geneva, Switzerland); Villa Bertramka Performance Hall (Prague, Czech Republic); Radio Symphony Hall (Budapest, Hungary); Bulgarian Chamber Concert Hall (Sofia, Bulgaria); Mariinsky Palace Amphitheater (Kiev, Ukraine); Great Hall of the Reina Maria Cristina Conservatory (Malaga, Spain); Teatro de la Plata (Buenos Aires, Argentina); Arlington National Cemetery Amphitheater (Arlington, Virginia); Kennedy Center for the Performing Arts (Washington, D.C.); Bass Concert Hall (Dallas, Texas); Crystal Cathedral (Garden Grove, California); and Carnegie Hall (New York City, New York).
What other musicians have influenced you and your music?
This is easy: Beethoven, Chopin, Liszt, Rachmaninoff, Artur Rubinstein, and Vladimir Ashkenazy.
Do you ever get nervous when performing? What do you do to combat nervousness?
Yes, nervousness comes with the territory, especially when you are a perfectionist. I do feel, however, that when nerves are channeled correctly, the nervous energy can actually elevate the playing to greater performances. There are several aspects to combating nervousness:
Performance confidence comes from thorough mental preparation. Approach the stage with three deep breaths and with excitement to perform the music in such a way that it communicates to the listeners. Forget yourself in the process of the music-making—it can be detrimental to consciously attempt to impress the audience rather than to approach the music with humility while striving to perform the score with honesty regarding the intent of the composer. Never contemplate possible memory lapses and technical difficulties. Love the music while striving to communicate the message of the music to the audience. Establish effective concentration and sincere confidence in the performance process.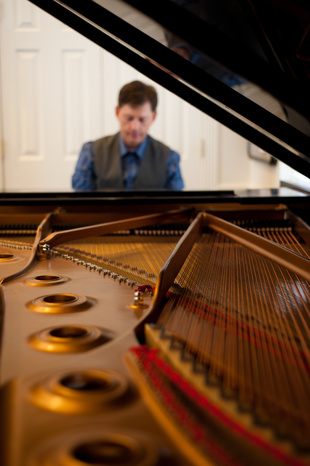 On your website, it says that you teach master classes. What sorts of classes do you teach?
My master classes most commonly follow the normal format: listening to pianists perform prepared repertoire in a public forum, while afterward working with each of them on various concepts of musicianship in an effort to improve the playing.
Other times, piano faculties will ask that I address specific musical and pianistic topics in my teaching such as: Pianistic Fundamentals of Musical Communication, The Human Elements of Outstanding Piano Teaching, Developing Comprehensive Finger Technique, and Piano Artistry.
Describe your creative process for us.
I cannot write or arrange without feeling inspiration. Music of inspiration comes from Deity. It is important for me to approach the creative process with more than just the theoretical, compositional, and artistic knowledge gained from years of study in the classroom and experience on stage. For me, music must communicate, must inspire, and must touch the soul.
Music speaks what cannot be expressed,
Soothes the mind and gives it rest,
Heals the heart and makes it whole
Flows from Heaven to the soul.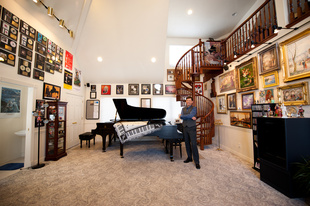 Tell us about your latest recording project.
Currently, I am arranging and recording Oscar-winning film music from different decades such as the theme from Schindler's List, medleys of Pride and Prejudice, Atonement, and Finding Neverland, "When You Wish upon a Star" from Pinocchio, and The Lord of the Rings, for example.
I have always been fascinated to work with and to discover, if possible, some of the musical genius of outstanding composers of our own time: Alan Menken, Dario Marianelli, Jan A.P. Kaczmarek, Howard Shore, James Horner, Alan Silvestri, and John Williams. This has been a rewarding project to date.
How does the gospel affect you as an artist?
The gospel affects me in almost every way—it teaches excellence. We must always strive for perfection in our work—the best and the greatest—and should never be satisfied with mediocrity. We must recognize that excellence and quality are a reflection of how we feel about ourselves and about life and about God.
If we don't care about these basic things, then such not caring carries over into the work we do, and our work becomes shoddy at best. Real craftsmanship, regardless of the skill involved, reflects real caring, and real caring reflects our attitude about ourselves, about our fellowmen, and about life.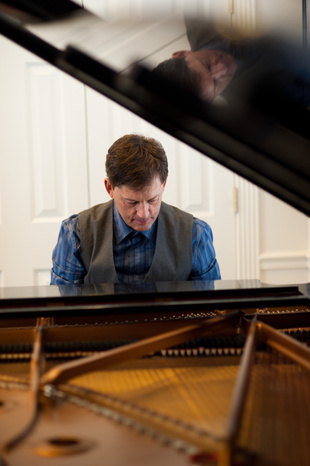 What are your plans for your musical career going forward?
Expectantly, this enriching career that has spanned decades of abundant musical involvement will be long-lasting. It is my passion to spread righteous influence through musical inspiration by weaving an expansive panorama of intriguing music-making and colorful contributions to the musical life of our time.
For this reason, my climb persists onward and upward as I have just returned from a European Piano Teachers Association invitation to lecture at the Second Annual World Piano Conference in Novi Sad, Serbia, and the very near future brings a schedule of new adventures comprising international performances, lectures, master classes, and musical firesides this coming summer in Santiago, Vina del Mar, and Concepcion, Chile, and Lima, Peru. ❧