Jessica Day George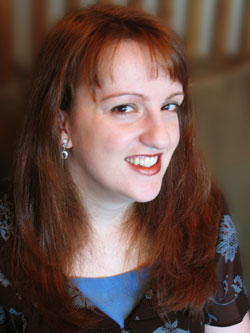 When and why did you begin writing?
When I was eleven, I decided to be a writer after reading The Hero and the Crown by Robin McKinley. It just seemed like such a cool thing to write stories for a living. When I was in junior high, my English teacher told me I was one of the best writers she'd ever had, and I was sold! I turned every assignment and vocabulary paragraph into a mini fantasy story.
What writers and books have influenced you?
Robin McKinley, of course. But also Diana Wynne Jones, whose book Dogsbody is one of the best and most unusual romances of all time. Tad Williams' Memory, Sorrow, and Thorn trilogy, Bryce Courtenay's The Power of One, Frances Hodgson Burnett's A Little Princess, Guy Gavriel Kay's Fionavar Tapestry… I've read those over and over!
If you had to choose, which writer would you consider a mentor?
Guy Gavriel Kay. I've loved his books for years; his writing is breathtaking. I met him when my first book, Dragon Slippers, came out, and he sat me down and talked to me very seriously about being a working writer, and we've continued to email back and forth, me with questions and rants, him with very soothing advice. It's been invaluable.
You studied Old Norse at BYU. What effect has that had on your writing?
Well, for one thing, I wish I studied harder! Also, I need to go to Iceland. But mostly, it's made the Scandinavian region and its ancient culture so much more alive. It's my default setting now, and I plan to use it again and again. I find myself thinking of names like Ragnfrid and Egil when I'm looking for character names, and legends and real people keep coming to mind as future book ideas.
Tell us about writing Sun and Moon, Ice and Snow.
I was so nervous! I've wanted to write my own version of this story since I was a teenager and discovered P.J. Lynch's wonderfully illustrated version of East o' the Sun, West o' the Moon. It was the only book that I've done any research for—I read about reindeer herding and checked and double-checked any words and names that I used to make sure they were authentic. I went back and forth between setting it in a semi-imaginary land called simply The North or setting it in actual Norway. I wanted to be true to the original story and hit all the right notes, but at the same time I wanted to make it deeper. Why was this happening? Who were these people? And I hope I succeeded!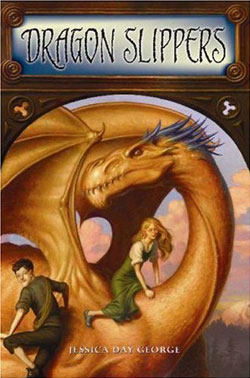 Where did you get your inspiration for Dragon Slippers and the other two books in that series?
Dragon Slippers just popped into my head one night. The whole book! It was magical! The second one came about because my editor kept asking for a sequel, but I refused to even think about it until one day I came up with a really good idea—an entire army, mounted on dragons!—and once I got into book two, I knew I'd have to round it out with a third book to tie up everybody's stories.
What was your creative process in writing those books?
Dragon Slippers was the easiest book I've ever written. It just flowed out like I was taking dictation. Dragon Flight was considerably harder. I had a great idea, but I wanted to make sure it wasn't too similar to the first book, and I really struggled with the characters, worrying that they would feel different from the first one. The third, again, just flowed. I knew where I wanted them to go, what to do, and by now the characters were old friends and I could let them run free!
Tell us about the heroine of Dragon Slippers, Creel, and how you created her character.
Creel is a tough chick. They said, "We're going to sacrifice you to the dragon," and she said, "We'll see about that!" She's a hard worker and a natural leader who struggles when she's not in control because she doesn't know what to do. I can't take much credit for her, because she literally just popped into my head one night! The one thing I have changed is that in the rough draft of Dragon Slippers she slapped a number of people, which I thought made her seem even more no-nonsense (and was also funny to me), but my editor thought it made her too abrasive. We toned her down a bit, and she just leaped off the page!
How has the gospel influenced you as a writer?
It helps me recognize when something is inspired, like Dragon Slippers, which helps me to relax and just let the writing flow. It also helped me to never give up. I've had several confirmations in my life, before I was ever published, that writing was my gift and I should use it. So when the rejection letters kept rolling in (and rolling in), I just went on writing anyway, because I knew this was where I was supposed to be.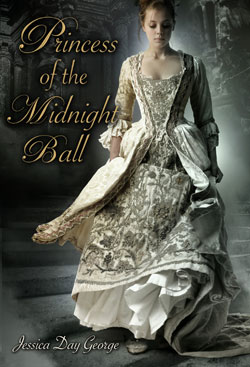 How do you see your work building the kingdom?
I think everyone needs a good story, and my job is to supply those stories!
What advice do you have for aspiring LDS writers?
Just keep writing. No matter what your style, or your genre, writing every day is important, and persistence is important. Also, read! Read everything you can get your hands on! It improves your writing and your creativity. (Also, it makes you look smart.)
What projects are you currently working on?
I'm in the process of editing the sequel to Princess of the Midnight Ball, tentatively titled Princess of Glass.
What are your plans for the future?
More books! More, more, more! ❧