Episode 14: Nicole Wilkes Goldberg on the 2015 Mormon Lit Blitz
Show Notes
The deadline for the Mormon Lit Blitz, a competition for short Mormon literature, is coming up May 1, 2015! In this episode, Mormon Artist podcast host Katherine Morris interviews Nicole Wilkes Goldberg, co-editor of the Mormon Lit Blitz. Nicole discusses the history of the competition and gives suggestions for those who are working on their submissions.
Interview date: April 19, 2015
Note: Podcast music and sound by Saint Roxcy. Copyright © Saint Roxcy 2015. All rights reserved.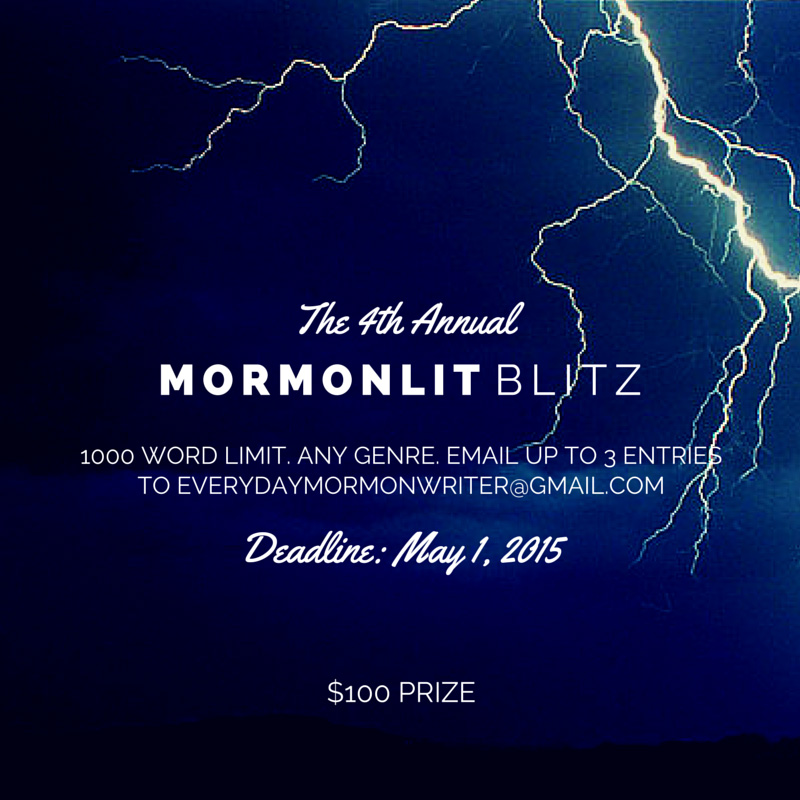 Call for Contest Submissions
The Mormon Lit Blitz is the world's premier contest for Mormon Micro-Literature. Held annually, the contest has helped expose fickle online readers to engaging Mormon work for longer than most missions last. Submissions for The Fourth Annual Mormon Lit Blitz Writing Contest are due by 1 May 2015 to everydaymormonwriter@gmail.com—up to three are allowed per entrant. Finalists will be posted on the Mormon Artist website starting 16 June.
What we want
Short work for Mormons to be published and read online.
The details
"Short" means under 1,000 words.
"Work" means creative writing in any genre, from literary realism to far future science fiction, and in any form: fiction, essay, poetry, comics, playlet, etc. Give us a tiny, polished gem we can show off to people who love Mormonism and love great writing but "know not where to find" a place where the two meet.
"For Mormons" means for committed Latter-day Saints. Yes, that's an extremely diverse audience (see the "I'm a Mormon" campaign—and your ward members), but it's also an audience with distinctive shared values and history that don't often get attention in creative work. We want you to write something that will appeal to us as people who believe in the sacred, who have ridiculous numbers of brothers and sisters we see every week, who worry about being good and faithful servants no matter what our day jobs are and wonder what it will be like to meet our grandparents' grandparents in heaven. We don't need your pieces to preach to us. We do need them to combine your creativity and religious commitment in a way that excites us and gives us something cool to talk about with our Mormon friends.
"To be published and read online" means we're going to post six to twelve finalists' pieces on Mormon Artist (mormonartist.net) and then ask readers to vote on their favorites.
One catch: since even 1,000 words can be intimidating on a screen, your piece needs a strong hook of no more than 120 words (or eight lines for poetry) to be visible on the main blog page. Mark the end of your hook with [MORE]. Even our editors will only read further if you've piqued their interest.
Submission Guidelines
Submissions must have fewer than 1,000 words with a hook no longer than 120 words (or eight lines for poetry). Submissions must be engaging to Latter-day Saints and engage with their Mormon identity in some way.
Authors may submit up to three works. Each submission must be attached to an email as a .doc or .pdf file. The selection process is blind, so the author's name should not appear on the document.
Email any questions and your submissions to everydaymormonwriter@gmail.com. Submission emails should contain the author's name, the titles of each submission, and contact information (telephone number or email address).
By submitting, authors give us the one-time rights to publish their work electronically. Previously published work is OK if you still have the rights to the piece and if it meets the above contest requirements (don't forget to add a [MORE] tag to the end of your hook).
The prize
The contest editors will select six to twelve finalists. All finalists will have their short works published online in May or June 2015 and actively promoted across the LDS blogosphere by the Mormon Lit Blitz team.
After all pieces have been published, readers will vote on a single Grand Prize Winner, who will receive $100. ❧